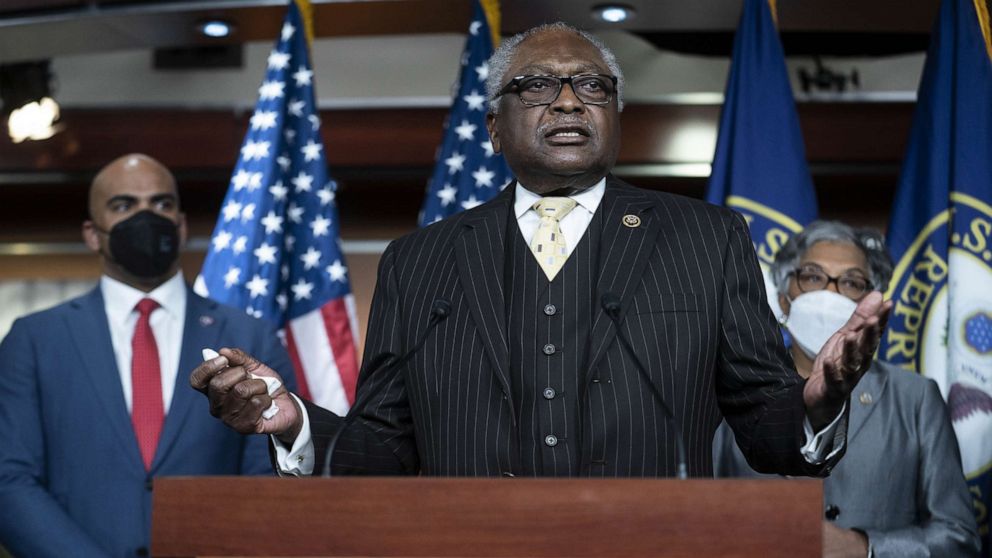 Clyburn asks senators 'which side are you on' for voting rights
ABC News
"We are going to keep pressuring on this issue. We are not going to roll over," the Majority Whip said Sunday.
Rep. Jim Clyburn, D-S.C., on Sunday asked his colleagues in the Senate who are set to vote on voting rights legislation Tuesday: "Which side are you on?" referencing the iconic union organizing song often sung during the civil rights era.
"You know, this is Martin Luther King Jr.'s weekend. I first met Martin Luther King Jr. back in 1960. And I can remember a song, if you think back, back then, 'Which Side Are You On?,'" the majority whip told ABC "This Week" co-anchor Martha Raddatz. "That song comes to mind today when I look at these senators. Which side are you on?"
"So let's have the vote so we can get a definitive answer to the question," he added.
Despite the House passing voting rights legislation Thursday, the outcome of the effort is still a seemingly foregone conclusion with Sens. Joe Manchin, D-W.V., and Kyrsten Sinema, D-Ariz., opposed to removing the filibuster provision to pave a path for voting rights legislation to pass the Senate.
More Related News
The law gives the Department of Agriculture authority to let WIC participants buy whatever formula is available during times of crisis.
Biden said last year he'd only meet with the North Korean leader so long as he committed to a discussion about denuclearization.
One person died and multiple people were injured after a destructive tornado tore through northern Michigan Friday afternoon, authorities said.
A federal judge in Louisiana decided the fate of a major move behind the Biden administration's immigration agenda.
An investigation is underway after a Chicago police officer shot an unarmed 13-year-old boy who authorities allege was involved in two recent carjackings.
A dispute broke out between two groups, eventually leading one individual to fire shots into the crowd, hitting nine people, police said.
Dozens of artillery systems supplied by the United States to Ukraine are not fitted with advanced computer systems, which improve efficiency and accuracy.
Former President Donald Trump has already injected election conspiracy theories into Pennsylvania's Senate primary, which is almost certainly headed to a recount.
The production of firearms in the U.S. has ramped up exponentially in recent decades, according to a new study by the Bureau of Alcohol, Tobacco, Firearms and Explosives
Members of Alexei Navalny's team are pressing the U.S. to pursue sanctions against 6,000 Russians who they say are among the "next tier" of those enabling Vladimir Putin.
The suspect who allegedly rushed and tackled comedian Dave Chappelle on stage last month has been charged with attempted murder in a separate incident.