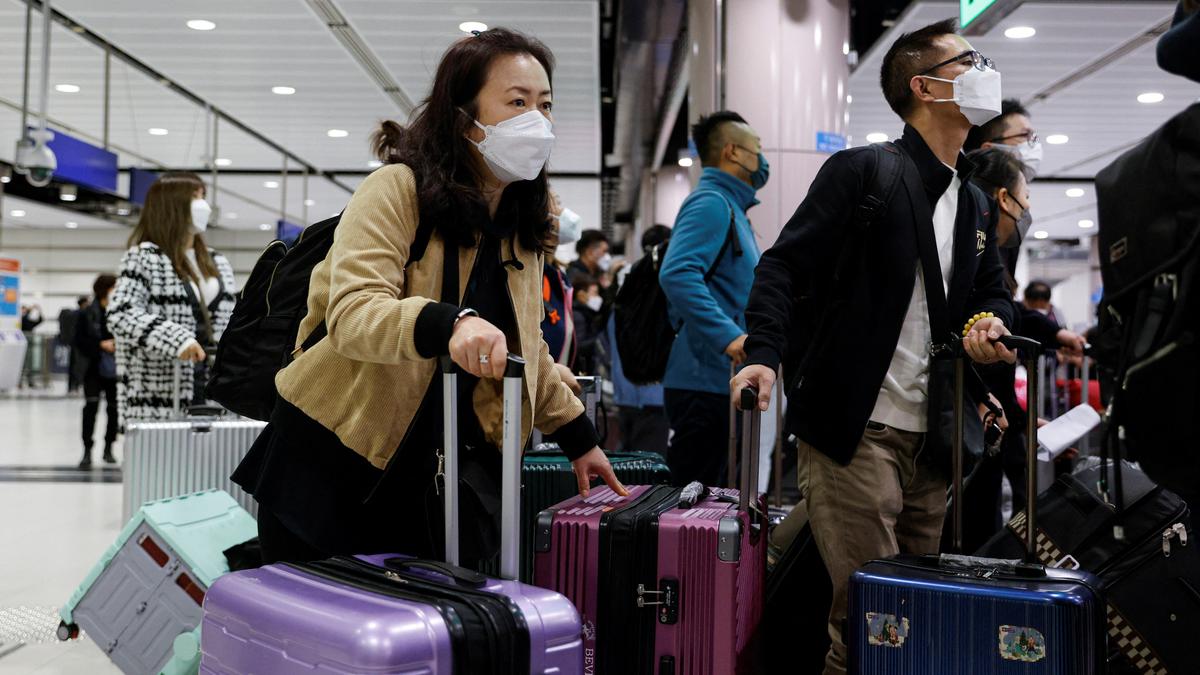 China reopens borders in final farewell to zero-COVID
The Hindu
After three years, the mainland is opening its border with Hong Kong and ending a requirement for incoming travellers to quarantine
Travellers began streaming across land and sea crossings from Hong Kong to mainland China on January 8, many eager for long-awaited reunions, as Beijing opened borders that have been all but shut since the start of the COVID-19 pandemic.
After three years, the mainland is opening its border with Hong Kong and ending a requirement for incoming travellers to quarantine, dismantling a final pillar of a zero-COVID policy that had shielded China's people from the virus but also cut them off from the rest of the world.
Read | In China, zero-COVID policy to zero COVID policies
China's easing over the past month of one of the world's tightest COVID regimes followed historic protests against a policy that included frequent testing, curbs on movement and mass lockdowns that heavily damaged the second-biggest economy.
"I'm so happy, so happy, so excited. I haven't seen my parents for many years," said Hong Kong resident Teresa Chow as she and dozens of other travellers prepared to cross into mainland China from Hong Kong's Lok Ma Chau checkpoint early on Sunday.
"My parents are not in good health, and I couldn't go back to see them even when they had colon cancer, so I'm really happy to go back and see them now," she said, adding that she plans to head to her hometown in eastern China's Ningbo city.
Investors hope the reopening will eventually reinvigorate a $17-trillion economy suffering its lowest growth in nearly half a century. But the abrupt policy reversal has triggered a massive wave of infections that is overwhelming some hospitals and causing business disruptions.
More Related News
China's disagreement to further expand cooperation in areas of energy, water management, and climate change under the CPEC underscores "the challenges that both the sides are facing in deepening the economic ties", the report said.
: South Korea holds largest Armed Forces Day ceremony in 10 years, President Yoon vows to build stronger military to thwart North Korea provocations. US, China, Japan leaders agree to hold trilateral summit in South Korea at earliest convenient time. Yoon's moves to strengthen military alliance with US, boost Seoul-Tokyo security cooperation worry China, but Yoon says won't marginalise any nation.
Canada has updated travel advisory for its citizens in India asking them to "stay vigilant and exercise caution" in the context of recent developments
Speaker Rota apologises for honouring Ukrainian WWII veteran who fought for Nazis; Trudeau's office denies involvement; Poilievre slams "error in judgement".
Philippines vows to remove Chinese barrier blocking access to disputed lagoon in South China Sea. Officials condemn "illegal and illegitimate" action, while China claims sovereignty over the area. U.S. Navy patrols challenge China's expansive claims and promote freedom of navigation.
Ukraine: 34 officers killed in Crimean missile strike; Russia denies. Ukraine claims its strike on the main building of the Black Sea Fleet HQ in Sevastopol killed 34 officers, including fleet commander, and wounded 105. Russia initially said one serviceman was killed, but later said the person was missing.
Ahead of the 2024 US Presidential polls, here's a look at why Joe Biden is a target of an impeachment inquiry by the Republican-controlled US House of Representatives.
The United States will recognize the independence of the Cook Islands and Niue, two small Pacific nations, President Joe Biden said
Canadian PM Trudeau's allegation of Indian agents' involvement in killing of Canadian citizen led to strained Indo-Canadian relations. India declared Nijjar a terrorist, accused Canada of providing safe haven for Khalistani supporters. India suspended visa services, expelled Canadian diplomat, postponed trade mission. Canada imports medicaments, diamond, jewellery, linen from India; India imports coal, fertilizers, leguminous vegetables, newsprint, uranium/thorium ore from Canada.
External Affairs Minister Jaishankar held a series of bilateral meetings with his global counterparts on the sidelines of the high-level United Nations General Assembly (UNGA) session in New York.