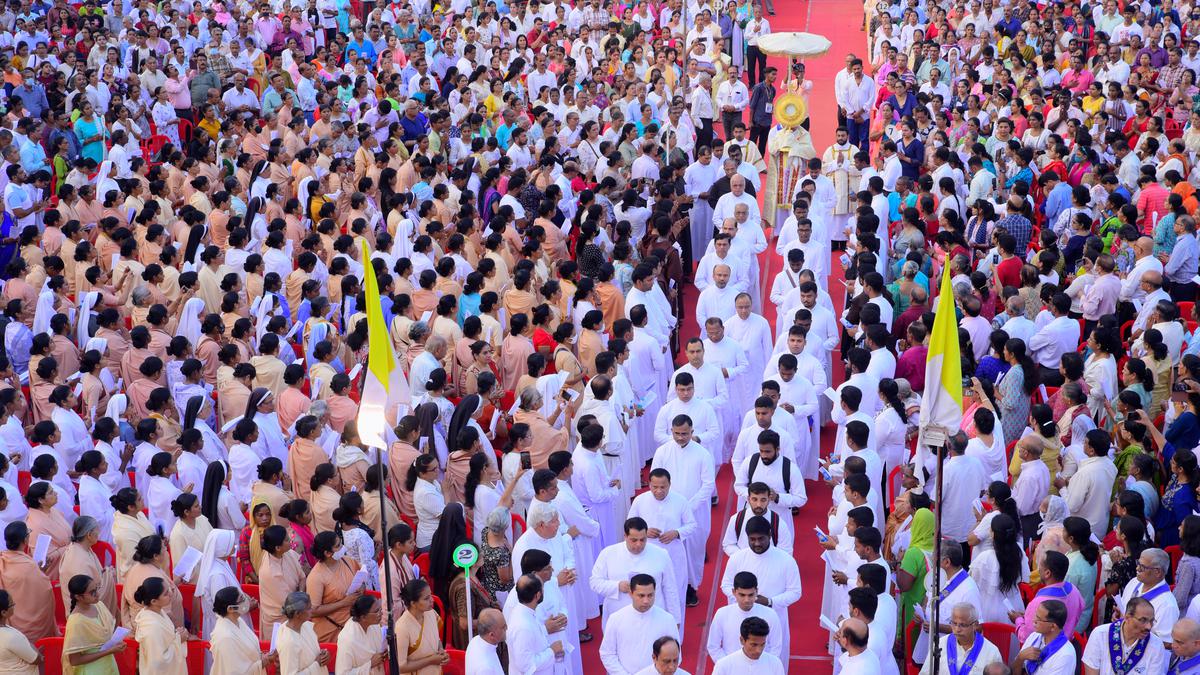 Catholics hold Solemn Eucharistic Procession in Mangaluru
The Hindu
The procession from Milagres Church to Rosario Cathedral was attended by thousands of Catholics from in and around the city
The Catholic Diocese of Mangaluru organised a solemn Eucharistic procession on Sunday, January 8, from Milagres Church to Rosario Cathedral, attended by thousands of Catholics from in and around Mangaluru.
The Year 2023 in the diocese of Mangalore was declared as the 'Year of Family' at the end of the Eucharistic Procession. Prior to the procession, mass was offered by Mangaluru Bishop Most Rev. Peter Paul Saldanha at the Milagres Church. The procession led by the Bishop, culminated at Rosario Cathedral with adoration.
The Eucharistic procession was held on the solemnity of the Epiphany also called Feast of the Epiphany, Theophany, or Three Kings' Day, commemorating the first manifestation of Jesus Christ to the Gentiles, represented by the Magi, and the manifestation of his divinity.
In his homily, the Bishop said, "We need to search God first in the holy scriptures and then in the hearts of each other." He further said, "The word of God in our hands is our star pointing towards Jesus. The Gospel itself becomes our star which draws us unto Jesus. Our hearts will burn with the word of God when we read and reflect on it. The word of God will make us realise that Jesus walks with us," he added.
Rev. Fr. Chethan Lobo, OFM Cap, Editor of Sevak Monthly preached a homily at the Rosario Cathedral grounds. He elaborated on the theme, "Humane Family: Hope of the Future," and brought out some areas to bring renewal and reformation in the modern Christian families.
More Related News
In the last Budget, ₹48,000 crore was allocated towards the Government's housing scheme
IMD further forecast light and moderate rainfall at many places over coastal Tamil Nadu and Puducherry on Wednesday and Thursday
The water will help irrigate 2,200 acres of agricultural land in 11 villages in Villupuram district and 1,000 acres in five villages in the Union Territory
Here is a quiz on interesting nuggets, historic facts and everything else that happened on January 31.
Trinamool Congress hits back at the National People's Party for backing the "foreigner-embracing" Citizenship (Amendment) Act after being accused of batting for Bangladeshis
Here are the key news stories to watch out for from Karnataka today
The 65-year-old was elected as MLA from the Erode Assembly constituency in 2001 and from the Erode (East) Assembly constituency in 2011; he has held various positions in trade, printing and petroleum dealers associations in Erode district
Artificial intelligence technology uncovered a previously unknown play by one of the nation's greatest authors, Felix Lope de Vega
PayPal says it will trim about 7% of its total workforce, or about 2,000 full-time workers, as tech companies look at cost-cutting measures