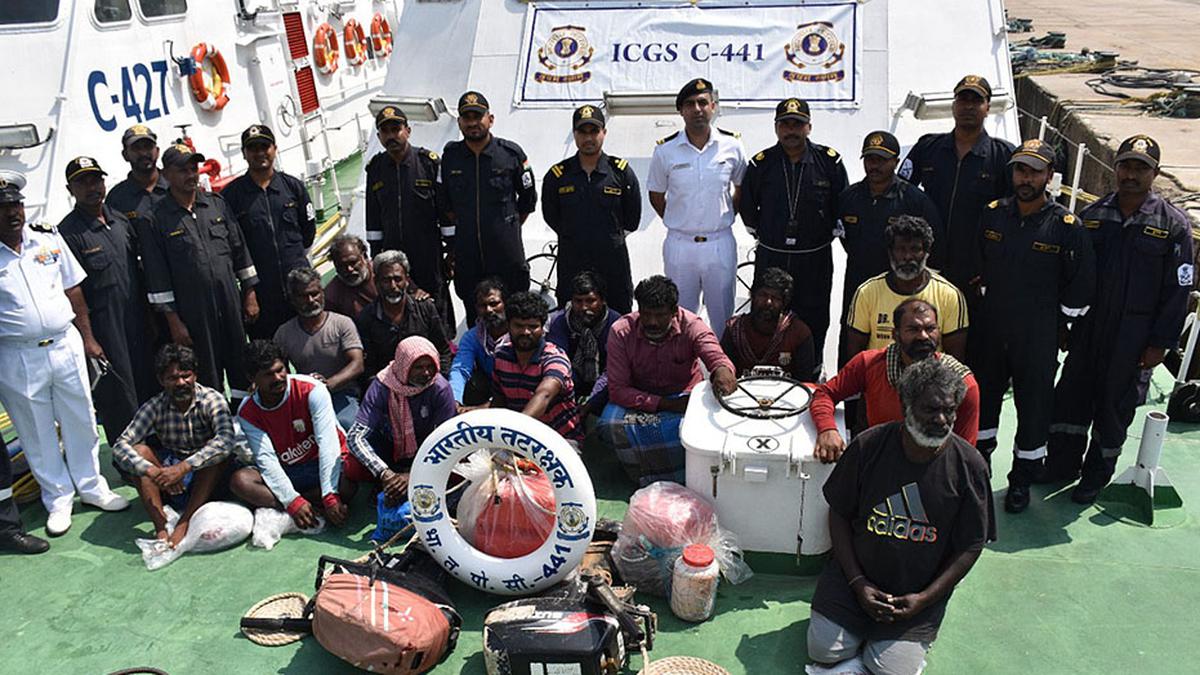 Cast away in the Salomon Islands, 14 Indian fishermen survive on coconuts
The Hindu
The fishermen from Tamil Nadu and Kerala, whose boat lost its gearbox and anchor, were stranded on a deserted atoll in the British Indian Ocean Territory for 15 days until they were rescued by a passing U.K. vessel
When nine fishermen from Kerala and five from Tamil Nadu set out for fishing on November 27, 2022, they never thought that their lives would soon resemble that of Tom Hanks' character in Cast Away.
Like on any other day, they had started from Thangapattinam in TN's Kanyakumari district after loading their boat, Chrisha Mol — owned by Varghese Raj from the neighbouring village of Eraviputhenthurai — packing rice and other staple ingredients that would last for 35 days. Acclimatised to deep sea fishing, these fishermen usually stayed at sea for 25 days at a stretch.
But on December 4, when they were barely a week into their trip, Chrisha Mol developed a snag.
According to Chinnaiyan Vellaiyan, they were about five nautical miles from the shore when the gearbox broke down. For about three days, they were anchored at sea, before they were spotted by a Sri Lankan fishing boat. With their help, the damaged gear box was taken to the shore by one of the fishermen, for repairs.
In the meantime, due to inclement weather conditions at sea, the boat's anchor got cut and Chrisha Mol started to drift. Using a dinghy, the fishermen managed to reach Ile Anglaise, an atoll which is part of the Salomon Islands, which lies in the Chagos archipelago in the Indian Ocean south of the Maldives.
Using what they had in the boat, the stranded fishermen managed to cook rice using the salt water. Though a deserted atoll, Ile Anglaise had numerous coconut trees. For 15 days, Mr. Vellaiyan said that they managed to slake their thirst by drinking coconut water and then by collecting rainwater as it rained frequently.
They had almost given up on being rescued until, on December 23, they were spotted by the OSV Grampian Endurance, a vessel sailing under the United Kingdom's flag. The fishermen were then handed over to the Indian Coast Guard when the British vessel passed off the Colachel coast on January 2.
More Related News
Born in 1928 in Khadaklat in present-day Karnataka, she was known by her mononym 'Sulochana' and acted in more than 300 Marathi and Hindi films.
The Aam Aadmi Party (AAP) on Sunday attacked the Bharatiya Janata Party (BJP) over the Balasore train accident, and said that before the accident, there were complaints of problems with the signalling system and a shortage in manpower, but the Central government had not done anything about these issues.
The silver jubilee celebrations of Amrita Hospital, Ernakulam, were inaugurated on Sunday. Inaugurating the celebrations, Union Home Minister Amit Shah said the hospital had set an example by providing free medical support to needy sections of the society.
Dakshina Kannada Member of Parliament Nalin Kumar Kateel has said that 22 km of the 45 km- long Bikarnakatte-Sanur National Highway widening project has been completed.
A month after Manipur was engulfed in ethnic violence, only 18% of over 4,000 weapons, looted or taken away from police armouries have been surrendered with the authorities.
The Congress had earlier demanded the resignation of Railway Minister Ashwini Vaishnaw and criticised Prime Minister Narendra Modi
Mamata Banerjee announced ₹5 lakh compensation to the kin of the deceased, ₹50,000 to the injured
Members of HB Colony Residents Welfare Association and Visakhapatnam Apartment Resident Welfare Association staged a protest demanding that the APSRTC officials resume city bus 20A service immediately
As many as 32 people from Karnataka, part of volleyball teams, who were stranded after the train accident in Balasore, managed to return on Sunday
The power sector in Tamil Nadu may see a maximum coal demand of 65.7 million tonnes by the financial year 2030 from actual consumption of 27.95 million tonnes in financial year 2022, as per government's report on Integrated Coal Logistics Plan for efficient coal evacuation.
Heavy rain accompanied by strong winds brought down the mercury level in Sivaganga town and its peripheries on Sunday evening..