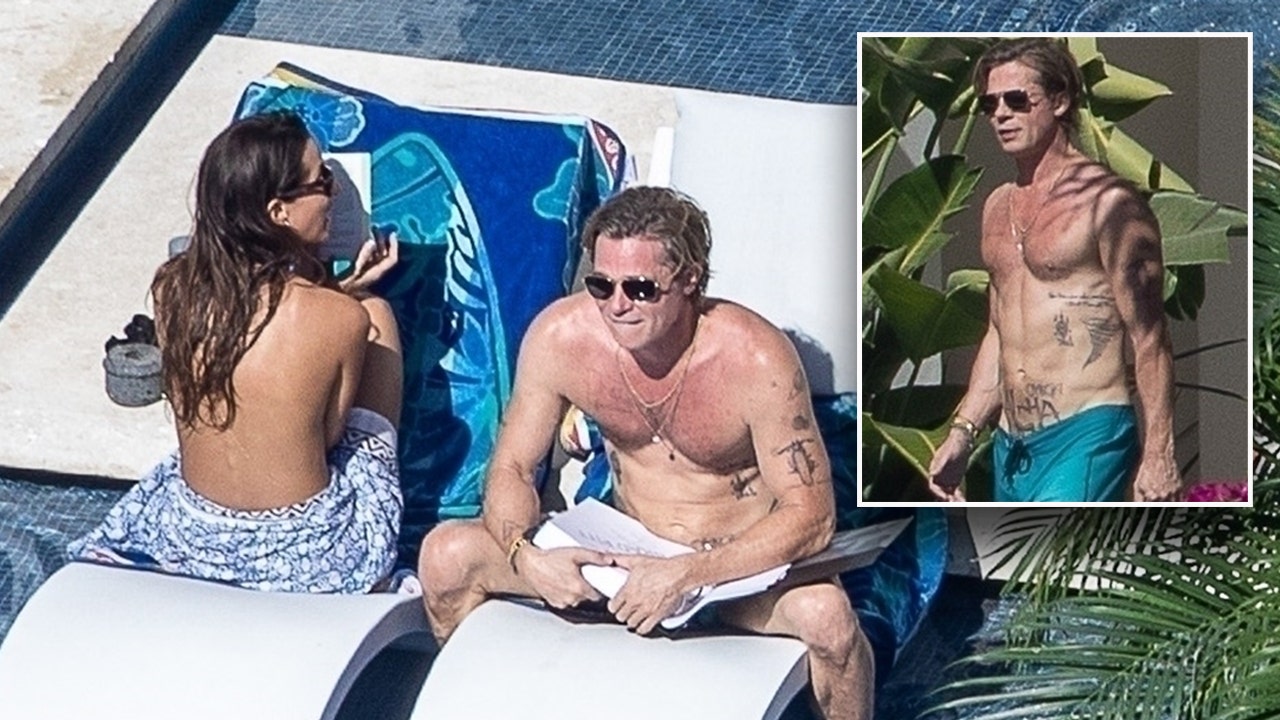 Brad Pitt sunbathes with topless girlfriend Ines de Ramon in Mexico amid 'semi-retirement' plans
Fox News
Brad Pitt and Ines de Ramon tanned and relaxed by the pool in Mexico to celebrate the new year in Cabo after confirming their relationship in November.
Ines opted to skip tan lines and went topless for the relaxing day by the pool as they both caught up on some light reading by the water. Tracy Wright is an entertainment writer for Fox News Digital. Send story tips to tracy.wright@fox.com.
The Academy Award winner sported a pair of turquoise blue trunks, and showed off his arsenal of tattoos with ink on his abs and torso while walking around shirtless by the pool.
More Related News
"Grey's Anatomy" stars Ellen Pompeo and Katherine Heigl look back on "torturing themselves" to create emotional drama. "Art is always worth it," Pompeo said.
Tallulah Willis admitted she's "still unpacking" her feelings toward growing up in the spotlight and around her mom's controversial marriage to TV star.
'80s actor Andrew McCarthy, 60, admitted he hadn't talked to the Brat Pack members for three decades after their rise to Hollywood fame.
Arnold Schwarzenegger claimed heaven is "some fantasy" in a new interview with Danny DeVito. The "FUBAR" actor revealed he's not "comfortable" with death.
CNN infighting continues as CEO Chris Licht was the subject of a scathing newsletter from media reporter Oliver Darcy, claiming his boss has "lost the room."
Susan Boyle, "Britain's Got Talent" extraordinaire, returned to the competition show and revealed that she had recently suffered a stroke.
Prince Harry, the Duke of Sussex and youngest son of King Charles III, is the first senior British royal since the 19th century to face questioning in a court.
Jennifer Esposito, 50, explained why she declined auditioning for "The Sopranos" after being asked several times to be a part of the cast.
Astrud Gilberto, the Brazilian singer known for "The Girl from Impanema," has died, longtime friend Paul Ricci, confirmed Tuesday. The musician was 83 years old.
The Fox News Entertainment newsletter brings you the latest Hollywood headlines, celebrity interviews and stories from Los Angeles and beyond.
Cuba Gooding Jr. and his accuser reached a settlement the same day the civil rape trial was set to begin. The victim claimed Gooding Jr. sexually assaulted her in New York in 2013.