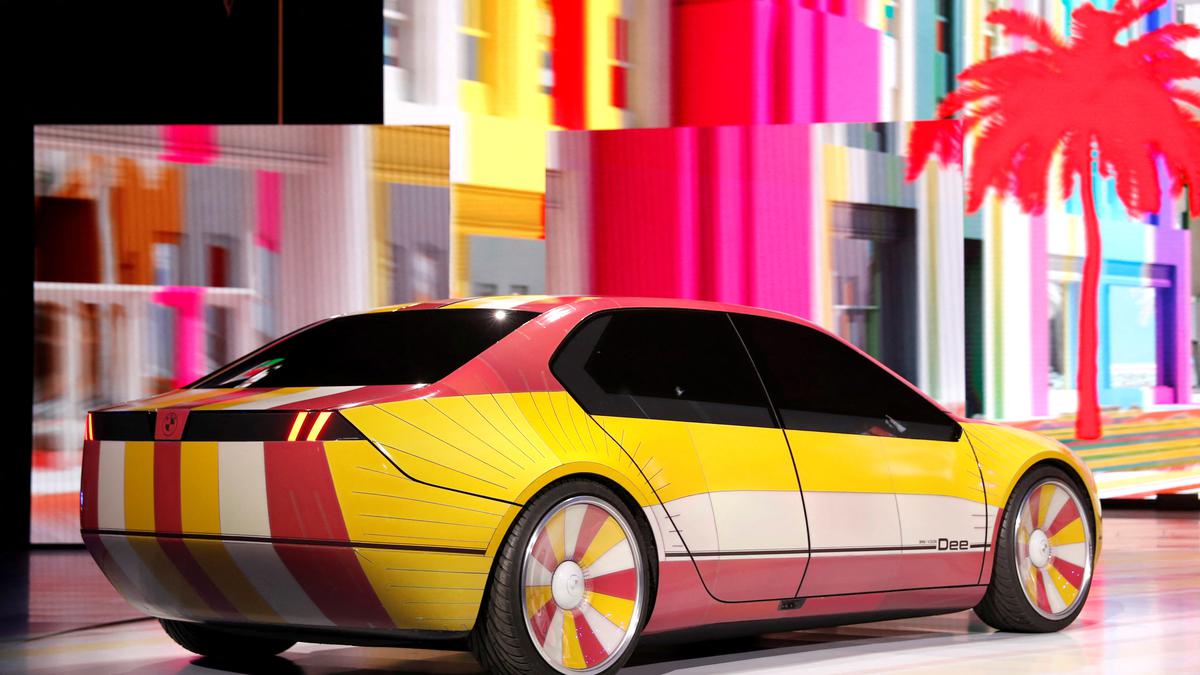 BMW teases a talking car that shifts colours like a chameleon
The Hindu
BMW AG's prototype for the car talks like a human and uses e-ink technology to change colours and match the driver's mood
BMW AG has unveiled a prototype for a car that talks like a human being, changes colours to suit the driver's mood, and has no screens on its dashboard.
(For insights on emerging themes at the intersection of technology, business, and policy, subscribe to our tech newsletter Today's Cache.)
The German luxury automaker's BMW i Vision Dee, revealed at a splashy kickoff on Wednesday evening for the CES conference in the U.S., previews technology that Chief Executive Oliver Zipse said would be put into production in 2025. BMW plans to launch a new line-up of electric vehicles, which it is calling the Neue Klasse, or new class.
The BMW concept was very much a show car, with elements that could be challenging to put into mass production at competitive prices. But Zipse told a packed theatre at the Palms Casino that BMW "will bring this technology into our Neue Klasse ... in serious production."
One of the most striking features of the concept was a dashboard that had no screens. Instead, the dashboard has one digital slider that controls images projected on the car's windshield. At the highest level, the windshield could show a digital, virtual world instead of the reality of city streets.
"Digital leadership is not about who has the biggest screen," Zipse said. That point of view is at odds with most of BMW's luxury segment competitors, starting with electric vehicle pace-setter Tesla Inc., which has made a large, high-definition screen the central feature of its vehicles' dashboards.
During a presentation highlighted by an appearance from actor and former California Governor Arnold Schwarzenegger, BMW also gave a central role to "Dee," a digital assistant that conversed with Zipse and others in a female voice. Playing on its long-time slogan "the ultimate driving machine," BMW said the "Dee" technology could make future cars the "ultimate companion."
More Related News
The Supreme Court upheld the Centre's proposal to give a six-month extension of service to Delhi Chief Secretary Naresh Kumar a day before he was due to retire on November 30
Agriculture Minister Cheluvarayaswamy expresses discontent over Union govt's reluctance to release drought relief to Karnataka farmers. He states that Karnataka contributes ₹4 lakh crore to Union govt's tax revenues, yet only gets back ₹30,000 crore. He urges Union govt to understand & release relief. He also directs officials to increase crop insurance registration & take up awareness activities. He emphasizes on water conservation & millet cultivation, curbing spurious & substandard products & establishing harvest hubs. He adds that 32,000 farm ponds will be built at ₹200 crore.
SDI, Mudasarlova, to shift to Dwaraka Bus Station building temporarily. Govt. has initiated steps to shift departments to Visakhapatnam for development. SDI has trained thousands of students since 2017. Building being renovated; rent to be ₹6-8 lakh/month. Move to help further develop region.
Police raid house, recover 200kg ganja. Tenant absconding. Police Commissioner urges citizens to verify tenants before renting. Teams formed to nab accused, cases booked under NDPS Act. House to be sealed. Courier services to be investigated.
The Bihar Education Department appears to be at loggerheads with the Raj Bhavan again after it ordered the suspension of the salaries paid to two Vice-Chancellors of State-run universities
Hyderabad Metro Rail completes 6 yrs of operations. Daily ridership nears 5 lakh, with Red Line carrying 2.45 lakh passengers. COVID-19 pandemic halted operations for 6 months. Govt instructs L&TMRH to lease train sets to tackle rush hour traffic. L&TMRH seeks financial assistance from govt. Airport Metro & Old City line pending, Bengaluru surpasses Hyderabad with 74 km of metro line.
Congress leader Rahul Gandhi on Wednesday dropped enough hints to send home the message that he may be contesting from Wayanad yet again.
V.V. Lakshminarayana to contest elections from Visakhapatnam. The former Joint Director of Central Bureau of Investigation underlines the need for weeding out bogus votes and initiating action against those deleting names of genuine voters.
MoUs signed at GIS summit translating into reality, says A.P. Chief Minister Jagan Mohan Reddy. In the last more than four years, 130 large and mega industries have come up across the State with an investment of ₹69,000 crore and providing employment to 86,000 persons, he says.
The Union Cabinet approved a special development mission for Particularly Vulnerable Tribal Groups (PVTG) with a total outlay of over ₹24,104 crore over a three-year period