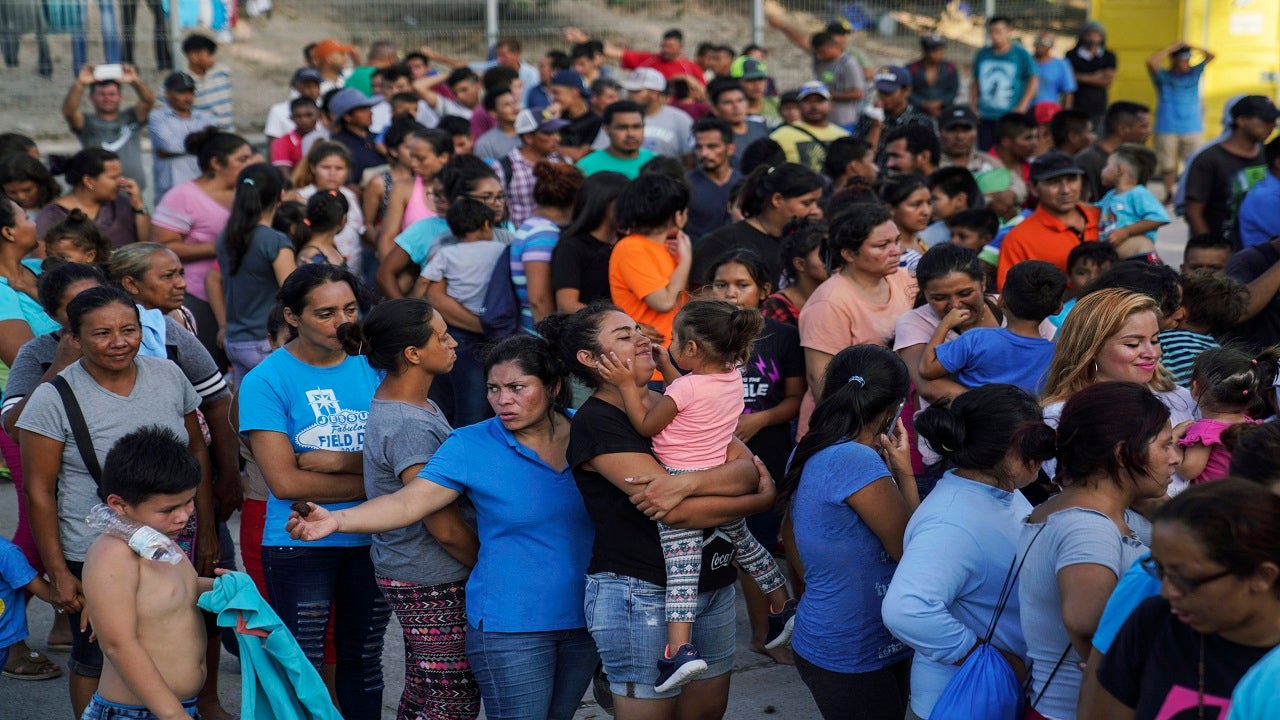 Biden administration to allow 25,000 asylum-seekers to cross US-Mexico border while cases are pending
Fox News
Around 25,000 asylum-seekers who were ordered under former President Donald Trump to wait in Mexico while U.S. immigration courts processed their requests will now be allowed to cross the border starting next week, the Biden administration announced Friday.
"As President Biden has made clear, the U.S. government is committed to rebuilding a safe, orderly, and humane immigration system," Secretary of Homeland Security Alejandro Mayorkas said in a statement. "This latest action is another step in our commitment to reform immigration policies that do not align with our nation's values." American Conservative Union Chair Matt Schlapp and Squared Communications CEO Michael Meehan react on 'America's Newsroom' Former Trump senior adviser Stephen Miller provides insight into the Biden administration's immigration policies on 'Fox and Friends.' The Biden administration estimates that around 25,000 individuals enrolled in the protocols still have active cases.
More Related News
Democrats are speaking off the record with major media outlets about Vice President Kamala Harris. They don't feel that she's distinguished herself and may not be ready for 2024
NewsNation reporter Evan Lambert was arrested Wednesday as he was covering a press conference attended by Ohio Gov. Mike DeWine, who spoke about the disastrous train derailment.
The body of a kindergarten teacher in New Jersey was found in a shallow grave while authorities were conducting a welfare check on her apartment. She was 33.
Fox News host Greg Gutfeld slammed President Biden's State of the Union address Tuesday night, claiming it was "manufactured oratory" on "Gutfeld!"
Democratic Sen. John Fetterman has been hospitalized overnight after he experienced lightheadedness during a Senate retreat. Fetterman previously suffered a stroke last May.
President Biden, in his second State of the Union address, laid out his economic plans for the year ahead by calling for bipartisanship—while simultaneously jabbing at Republicans and their proposals, declaring climate change as an "existential threat," and maintaining his commitment to "work with China," but warning he will take action if Beijing "threatens" U.S. sovereignty.
Republicans jeered at President Biden as he noted the growing number of fentanyl overdose deaths during his State of the Union address Tuesday.
Former President Trump accused President Biden of leading the US to "the brink of World War III," and vowed to "complete the unfinished business of making America great again."
Pennsylvania Acting Attorney General Michelle Henry announced child sex abuse charges against five members of Jehovah's Witness congregations on Monday.
Los Angeles County lawmakers approved a series of motions to tighten gun restrictions after several mass shootings in California.
Four Supreme Court justices opted against attending President Biden's State of the Union address at the U.S. Capitol on Tuesday evening.