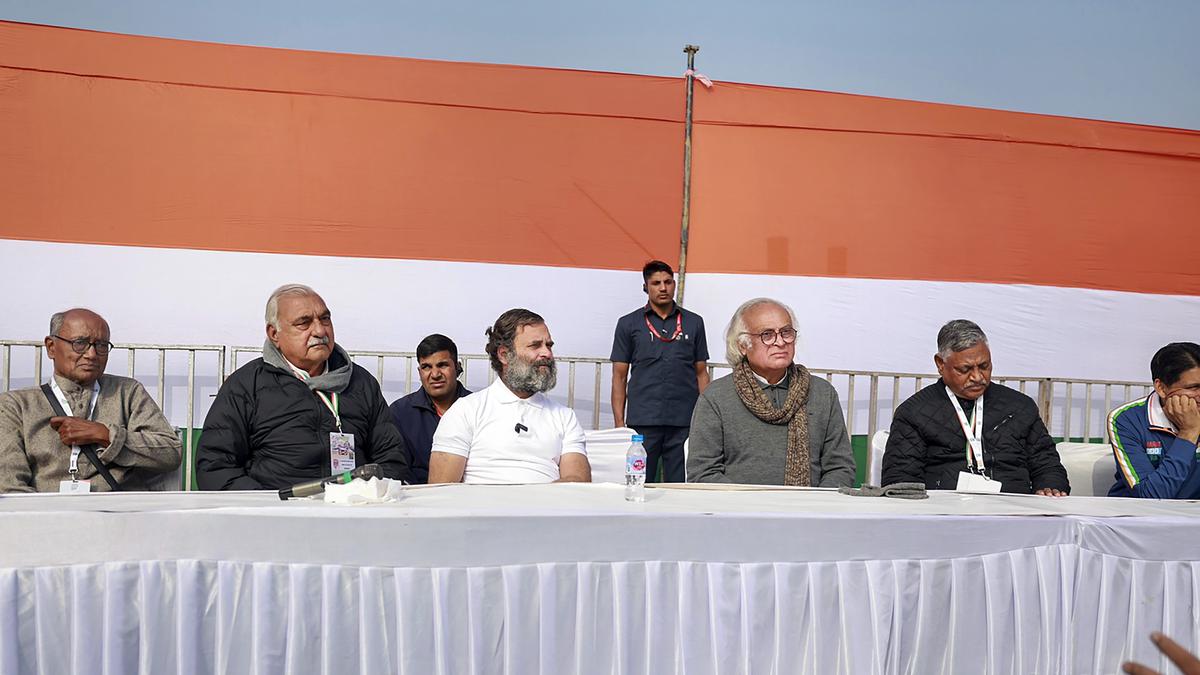 Bharat Jodo Yatra against fear, hatred being spread: Rahul Gandhi
The Hindu
There is other purpose of this yatra that we are seeing is that this yatra is like a "tapasya", Rahul Gandhi added
Congress leader Rahul Gandhi on January 8 said the Bharat Jodo Yatra led by him has received an overwhelming response everywhere in the country, asserting that the foot march is against hatred and fear being spread in society as well as against unemployment and inflation.
He said the yatra's purpose is also to let people hear the true voice of the country.
"Bharat Jodo Yatra has received overwhelming response everywhere," Mr. Gandhi says addressing media in Samana near Kurukshetra.
Also Read | Amid severe cold weather, Bharat Jodo Yatra moving from Karnal towards Kurukshetra in Haryana
Talking about the Kanyakumari to Kashmir foot march, which is currently passing through Haryana, Mr. Gandhi said he got to to learn many things during the course of the journey so far.
"What is in the country's heart got to hear that directly [interacting with people]. The yatra has received good response in Haryana — it is energetic, enthusiastic response," he said.
In an attack on the critics of the yatra, Mr. Gandhi said when it was started, "people said the response which we got in Kerala, we won't get that in Karnataka, which is a BJP-ruled State. But we got an even better response there. Then they said the yatra got a response in south India, but when it reaches Maharashtra, it won't get that response. When we reached Maharashtra, we got even better response than the south".
More Related News
Early June 8, Chief Minister Pinarayi Vijayan embarked on an eight-day foreign tour of the United States of America (USA) and Cuba amidst strident criticism from opposition parties.
Exploration of ways to monetise land without exploiting it led to the birth of Mycelium, a Bengaluru-based start-up that aims to buy private lands outside of protected forests and conserve or restore these spaces.
Heat-wave conditions are likely to continue in most parts of Jharkhand till June 12, the weather office said on June 8 Thursday.
Asia Kitchen by Mainland China opens a new 98-seater restaurant at Somerset Greenways in Chennai with Omurice and Thai khao niew mamung
The Southern Railway has decided to postpone the suspension of the Mass Rapid Transit System (MRTS) from Chennai Beach to Chepauk
Tamil Nadu police launch drive to trace missing children
Collector M. S. Sangeetha on Wednesday handed over compensation amount to the family members of those injured in the aftermath of an altercation that broke out during a temple festival in Othakadai in Madurai, last week.
More than 10,000 children took part in 363 summer camps organised by the Greater Visakhapatnam Municipal Corporation (GVMC) in 98 wards, Mayor G. Hari Venkata Kumari has said.
Here is a list of top news developments to look out for from Tamil Nadu on June 8, 2023.
Here are the important developments from Kerala to watch out for today.
Actor Amaan, who started off as a lead actor in TV serials, talks about the struggles of sustaining himself in Kannada cinema