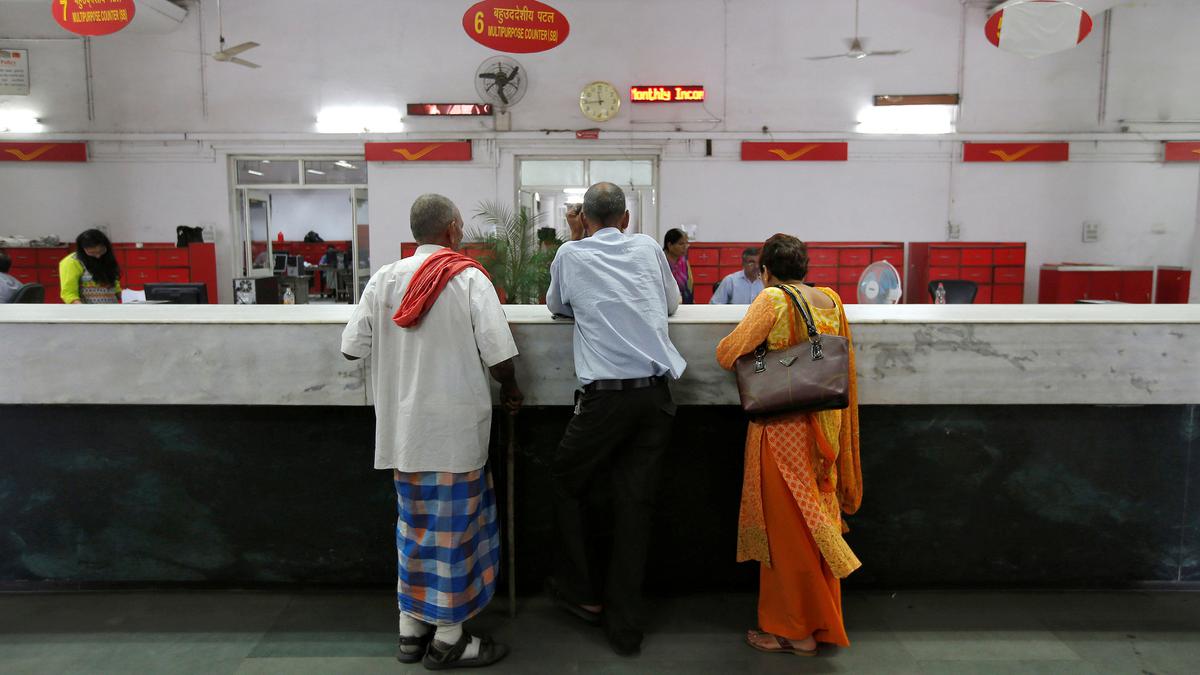 Banks may raise deposit rates to compete with increases in small savings': RBI
The Hindu
The returns for the October to December 2022 quarter, were 44-77 bps than the formula-determined rates, the RBI said in its October bulletin
The rate increases on some small savings schemes for this quarter could make it tougher for banks to raise deposits and compel them to raise rates, the Reserve Bank of India (RBI) has said.
For the January-March 2023 quarter, the government has raised interest rates on eight of 12 small savings instruments, including a minimal 20 basis points (bps) increase for the National Savings Certificate and Kisan Vikas Patra and a 110 bps higher return on one-, two- and three- year time deposits. One basis point (bp) equals 0.01%.
Returns on the Public Provident Fund (PPF) and the Sukanya Samriddhi Account scheme were left unchanged at 7.1% and 7.6%, prevalent since April 2020. Interest rates on small savings schemes are fixed on a quarterly basis with a spread of 0-100 bps over and above the yields on government securities of comparable maturities.
The returns for the October to December 2022 quarter, were 44-77 lower bps than the formula-determined rates, the RBI had said in its October bulletin. The PPF and the Sukanya Samriddhi scheme should have earned 7.72% at 8.22% in the previous quarter, it said.
Although it has not shared details on how the revised small savings rates square up with the formula-based returns in its latest bulletin, the central bank has reiterated its concerns about the implications of these increases for banks.
"The increase in rates on small savings schemes may pose competition to banks for raising deposits, and banks may be prompted to further increase their retail deposit rates," it has said.
When small savings rates were held higher than the formula-based rates through 2021, the RBI had repeatedly flagged concerns about their impact on monetary transmission and the competitive pressure they pose on banks' ability to raise retail deposits, especially for public sector banks. The RBI's bulletins for April, June, July and October, made a reference to the issue.
More Related News
The Union Budget is presented on February 1, so that it could be materialized before the beginning of the new financial year. Here is a quiz on the budget
Adani Group stocks have taken a beating on the bourses in the recent time after Hindenburg Research made a litany of allegations in its report
Brent crude futures, the global oil benchmark, advanced 0.77% to $83.48 per barrel
Finance Minister Nirmala Sitharaman's fifth straight Budget comes at a time when the economy is slowing and there is a need for increased spending on social sectors as well as ramping up incentives for local manufacturing.
Establishment of 157 new nursing colleges in collaboration with existing medical colleges is a welcome move
The Budget's renewed commitment to investment-led growth is fine, but it fails to look at the longer-term issues and find solutions
Adani Enterprises Ltd., were to use ₹10,869 crore for green hydrogen projects, work at the existing airports and the construction of a greenfield expressway out of the ₹20,000 crore proceeds from the FPO
Finance Minister introduces a 'digital public infrastructure for agriculture' that will be built as an open source, open standard and inter-operable public good
Ashwini Vaishnaw, Minister of Railways said that this would benefit 800 crore passengers who annually travel by train
Pradhan Mantri Jan Arogya Yojana (PM-JAY) which provides cashless health insurance of up to ₹5 lakh per family has been allocated ₹7,200 crore in FY 23-24, higher than last year's ₹6,412 crore
Increase in capex outlay is a defining feature of the Budget; this would have a cascading effect on private sector investments, economic growth, employment generation