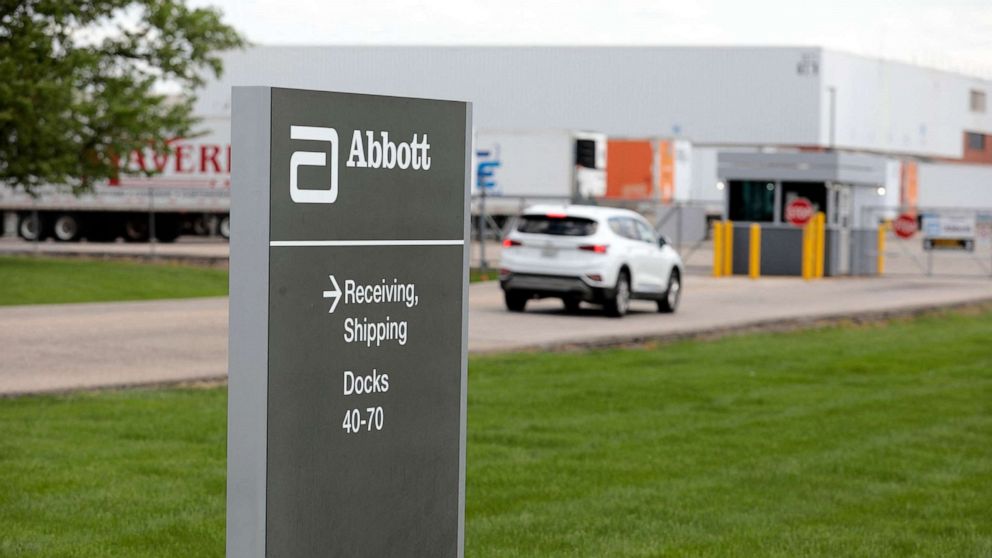 Baby formula timeline: Plant posed a risk last fall
ABC News
The FDA was aware for months of potential problems at the Abbott manufacturing plant for baby formula before it sounded the alarms for parents.
Federal regulators warned months ago of potential problems at a manufacturing plant for baby formula, according to documents and a public timeline of the events, raising questions about whether more could have been done sooner by the government to address operational issues and prevent a nationwide shortage.
Inspection reports by the Food and Drug Administration, as well as a 34-page whistleblower report from a former employee of Abbott Laboratories, suggest the FDA first became aware last fall of suspected sanitation issues at an Abbott facility in Sturgis, Michigan. But it wasn't until mid-February after the agency detected deadly bacteria inside the plant, that Abbott issued a voluntary recall – a drastic move that syphoned off a significant portion of the nation's supply.
Months after that, concerns still remain about what is taking so long to get the facility running again safely, as families scramble for access to formula.
"We know there have been questions about the timeline," the FDA said in a statement released Friday. "However, this remains an open investigation with many moving parts. We are continuing to investigate and will continue to update you as information becomes available. Once the immediate risk to the public has been addressed, we will conduct a review and, as outlined in our recently released Foodborne Outbreak Response Improvement Plan, we will build in performance measures across the FDA's foods program to better evaluate the timeliness and effectiveness of outbreak and regulatory investigation activities."
More Related News
The law gives the Department of Agriculture authority to let WIC participants buy whatever formula is available during times of crisis.
Biden said last year he'd only meet with the North Korean leader so long as he committed to a discussion about denuclearization.
One person died and multiple people were injured after a destructive tornado tore through northern Michigan Friday afternoon, authorities said.
A federal judge in Louisiana decided the fate of a major move behind the Biden administration's immigration agenda.
An investigation is underway after a Chicago police officer shot an unarmed 13-year-old boy who authorities allege was involved in two recent carjackings.
A dispute broke out between two groups, eventually leading one individual to fire shots into the crowd, hitting nine people, police said.
Dozens of artillery systems supplied by the United States to Ukraine are not fitted with advanced computer systems, which improve efficiency and accuracy.
Former President Donald Trump has already injected election conspiracy theories into Pennsylvania's Senate primary, which is almost certainly headed to a recount.
The production of firearms in the U.S. has ramped up exponentially in recent decades, according to a new study by the Bureau of Alcohol, Tobacco, Firearms and Explosives
Members of Alexei Navalny's team are pressing the U.S. to pursue sanctions against 6,000 Russians who they say are among the "next tier" of those enabling Vladimir Putin.
The suspect who allegedly rushed and tackled comedian Dave Chappelle on stage last month has been charged with attempted murder in a separate incident.