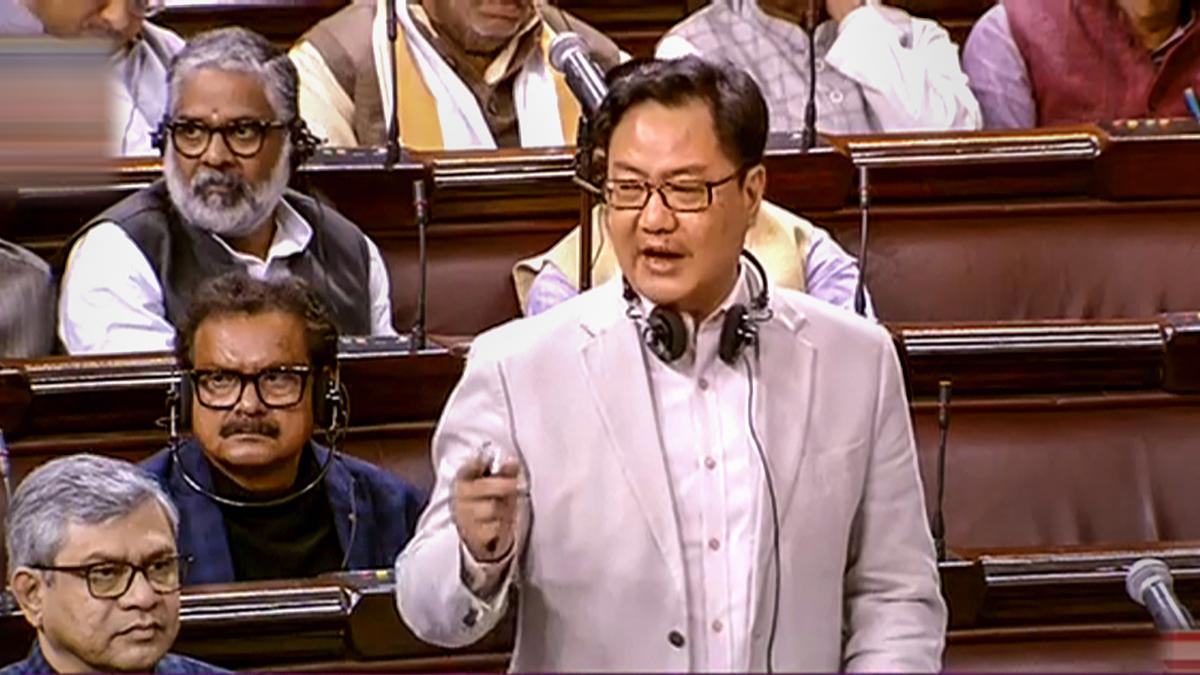 Aspersions should not be cast on appointment of Victoria Gowri as High Court judge: Government
The Hindu
Asked by TMC member Jawhar Sircar whether the appointment of Ms. Gowri was right, Leader of the House Piyush Goyal sought the indulgence of the chair.
Differences of opinion are a part of democracy and there are ways to find solutions to that, Law Minister Kiren Rijiju said on February 9 in Rajya Sabha on whether there exists differences between the judiciary and the executive on the issue of appointment of judges.
The government also said aspersions should not be cast on appointment of Victoria Gowri as a judge of the High Court, asserting that she has been appointed through a process.
Victoria Gowri appointment | Two views emerge from Supreme Court on what Collegium considered
Asked by TMC member Jawhar Sircar whether the appointment of Ms. Gowri was right even when she has been accused in public of making casteist remarks, of remarks against minorities, Leader of the House Piyush Goyal sought the indulgence of the chair.
"I think there should be some decorum. An honourable judge has been duly appointed through a process. I don't think we, as honourable members here, should be casting aspersions of this nature. I seek your indulgence," Mr. Goyal said.
Rajya Sabha Chairman Jagdeep Dhankhar said the three wings of the State have to act in tandem and "we must have mutual respect for them". "All three ultimately have to get together to fructify our goals. When it comes to judiciary, with respect to which a judgement of the highest court has already come. I am sure that issue should be kept away.
"I would urge the honourable member to ask his supplementary in a pointed manner keeping in mind the provisions that judicial situations have to be addressed in a delicate manner," he said. The Chairman also told the TMC member that he was making reference to an individual who is not a member of the House.
More Related News
Suspended YSR Congress Party (YSRCP) MLA Kotamreddy Sridhar Reddy has condemned the attack on Bharatiya Janata Party (BJP) national secretary Y. Satya Kumar's convoy, alleging involvement of the ruling party in the incident. ''It was a providential escape for me too. I escaped an attack by a violent mob. My car driver took another route to Nellore after seeing the mob. Democracy is under threat under the YSRCP rule," said the suspended MLA.
The tweets flagged by the government also include older posts related to anti-minority speeches made by political leaders
Presenting her second budget, Madurai Mayor Indrani Ponvasanth said under the able leadership of Chief Minister M.K. Stalin, Madurai would be given a facelift in all spheres. While heritage buildings, parks and monuments would be preserved, growth and development suited to the modern times would be implemented in all aspects, she said.
With focus on priority areas of emerging economies, plenary sessions of the second Sherpas' meeting under India's G20 presidency begins in Kumarakom.
While the toll charges for a single way journey on the expressway for cars was ₹135, it will be increased to ₹165 and for a return journey on the same day, the charges will jump from ₹205 to ₹250.
"Most of Shaista Parveen's family members are in jail or absconding."
Gujarat Titans skipper Hardik Pandya won the toss and elected to field against Chennai Super Kings in the Indian Premier League opener in Ahmedabad on March 31.
Information and Public Relations Minister Ch. Venu Gopala Krishna on Friday appealed to the rural reporters to enroll in the Diploma in Journalism course being offered by the C. Raghavachari Andhra Pradesh Press Academy (APPA)
A cardiac patient, Udayagiri MLA Mekapati Chandrasekhar Reddy had earlier undergone treatment for the same in Chennai and Bengaluru
The victim reached home and reported the incident to her mother, with whose help she got treated at a hospital.
In the midst of a heated debate surrounding the legacy of Hindu ideologist Vinayak Damodar Savarkar, Maharashtra Minister Mangal Prabhat Lodha has announced plans to celebrate 'Swatantraveer Savarkar Vichar Jagran Saptaha', across the State.