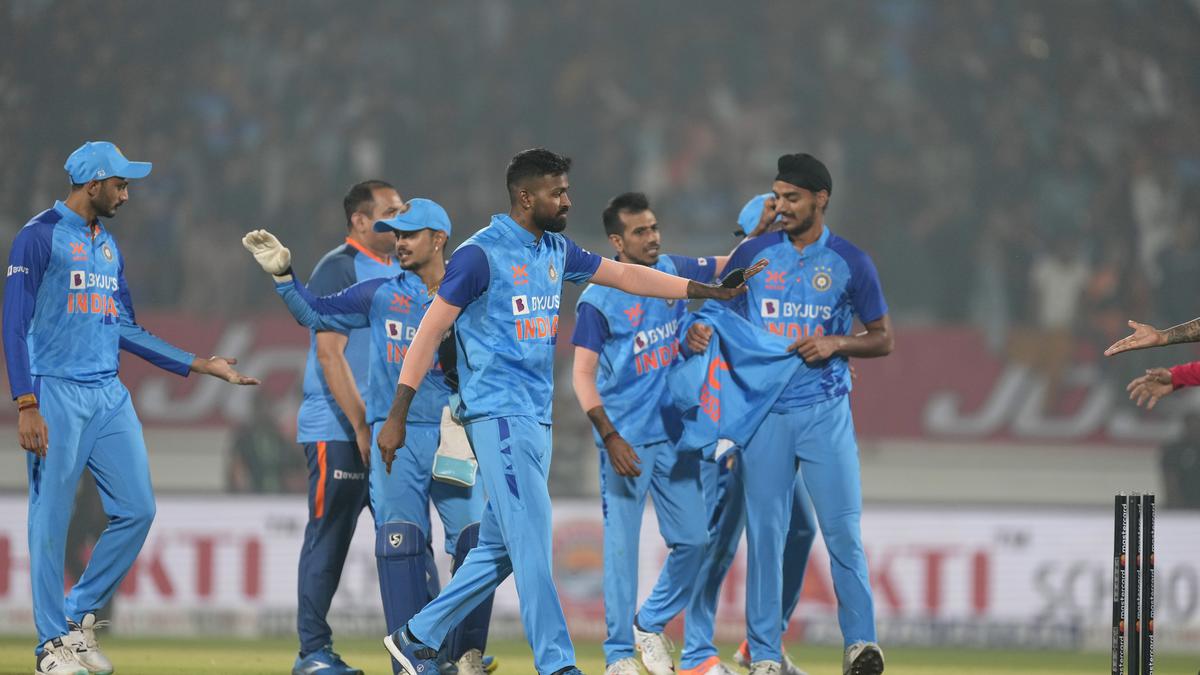 Ashish Nehra made a big difference to my captaincy at Gujarat Titans: Hardik Pandya
The Hindu
The all-rounder was made the Gujarat skipper in a bold move by the first-time IPL franchise.
There has been no looking back for Hardik Pandya since he led Gujarat Titans to an IPL triumph in their maiden appearance last year, and the new Indian T20I skipper credits his franchise coach Ashish Nehra for making "a big difference" to his captaincy.
Coming back from a long injury layoff, the premier all-rounder was made the Gujarat skipper in a bold move by the first-timers.
But Pandya, who had led only once at senior level in a tour game against Australia, proved his detractors wrong and led by example.
"What has been very important from Gujarat point of view is the kind of coach I worked with. Ashish Nehra made a big difference in my life, because of our mindsets. We might be two different personalities, but we have very similar cricketing thoughts," Pandya said after leading India to a 2-1 series win over Sri Lanka here on Saturday.
"Because I was with him, it added value to my captaincy. It helped me to get exactly what I know. It was just about getting that assurance, once I got that... the awareness of this game I always knew. It was all about knowing and backing what I knew already. It has definitely helped me," he added.
Before the home series against Sri Lanka, the Indian selectors overhauled the side after the Rohit Sharma-led team failed to win the T20I World Cup in Australia, losing to eventual champions England in the semifinal.
Prior to this series, Pandya had led India's T20I side whenever Rohit was unavailable.
More Related News
England Test captain Ben Stokes was forced to retire from ODIs last year as he could not go on giving his best across formats.
BENGALURU: S. Padmanabhan-trained La Reina (Neeraj Rawal up) won the Wolf777 Bangalore Derby, the ch
While Wimbledon champion Elena Rybakina has reached her second final, Sabalenka entered her first final
England skipper and allrounder Ben Stokes, who redefined Test cricket in 2022, was adjudged the best in the longer format.
Wimbledon champion Elena Rybakina has reached her second final in the past three Grand Slam tournaments by beating Victoria Azarenka 7-6 (4), 6-3 at the Australian Open
Barcelona were the better side for most of the match after that but only scored once thanks to a brilliant counter-attack by man-of-the-match Dembele in the 52nd minute
Jean-Paul Danneberg made the two most crucial saves of his as yet brief seven-match international career while Germany converted all four of its attempts to go through.
Djokovic was on fire and raced to a 4-1 lead before converting a fifth break point to speed 5-1 clear and clinch the set in 39 minutes.
Lakshya and Saina advanced to the second round of men's and women's singles events, rwith contrasting wins in Indonesia on Wednesday
Jehan will combine his F2 campaign with his Formula E role with Indian manufacturer Mahindra Racing
Suryakumar Yadav had a stellar 2022, breaking an array of records and setting a benchmark in T20 cricket