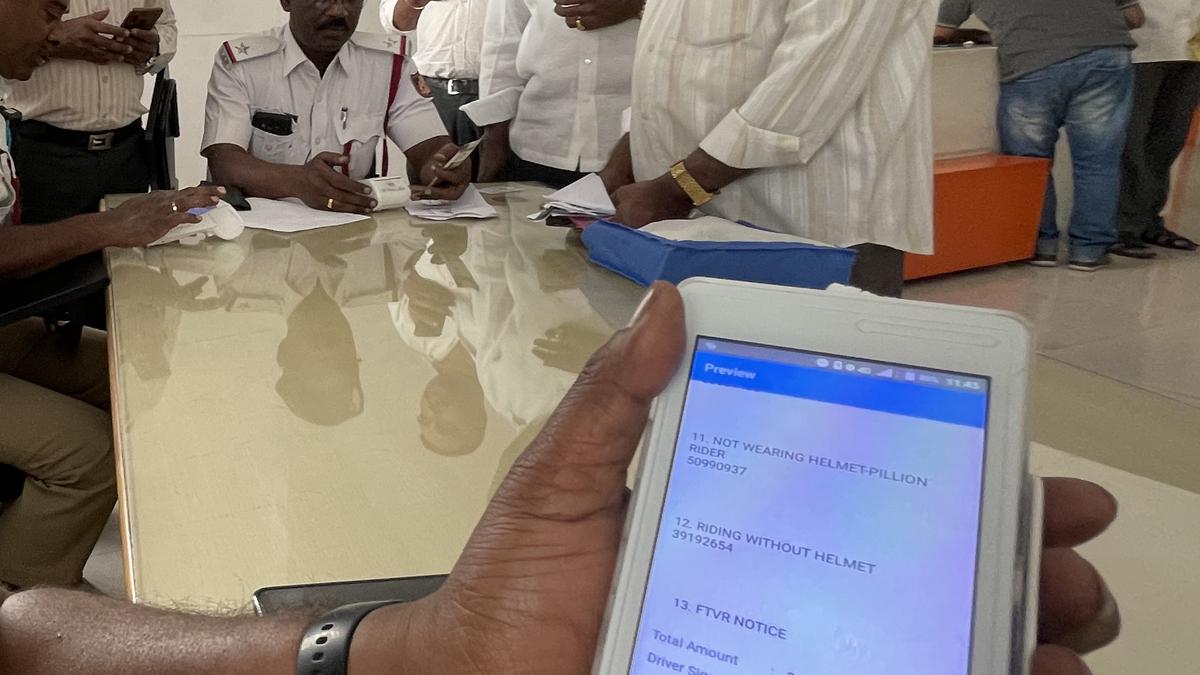 As scores of motorists settle traffic violation cases using rebate window, several fake number plate cases flagged
The Hindu
Bengaluru Traffic Police launches special drive to crack down on vehicles using fake number plates
With thousands of motorists queuing up everyday to clear pending traffic violation cases, social media is abuzz with complaints by motorists contesting penalties levied against their vehicle numbers.
Many motorists, who have checked the photo and video of the violation provided by the Bengaluru Traffic Police, have also pointed out that someone was misusing their vehicle number on a different vehicle. At least 100 such cases of fake number plates have come to light over the last four days ever since the 50% rebate window was opened on February 3.
The BTP has disposed off over 14 lakh cases and collected a total of over ₹41 crore in the last four days.
City-based homemaker Nandakumari, who owns a scooter, was shocked to see she had dues of ₹16,000 after rebate over pending traffic violation cases. When she carefully checked all the photos and videos the BTP had tagged with the listed violations, she found only one genuine case against her vehicle and the rest were against vehicles misusing her registration number. She visited the Traffic Management Centre on Tuesday and contested the cases against her.
Another scooter rider Bhavani, who had come to TMC on Tuesday, to contest cases against her, said that her scooter registration number was being used by another woman. "The video grab clearly shows the scooter to be of a different colour than mine," she said. Vishvesh P., in his complaint on the Twitter account of the BTP, said that he was fined repeatedly for offences caused by other bike owners for the numbers of his two scooters. Similarly, motorist Kishore Kumar said that he had a bike but the violations attributed to his bike number were that of a scooter.
M.A. Saleem, Special Commissioner, Traffic, Bengaluru, termed this a "good development" as the rebate window had prompted scores of motorists to check for violation cases pending against their vehicle numbers leading to uncovering several cases of fake number plates.
The BTP has now launched a special drive to crack down on such vehicles with fake number plates. "The registration number of the disputed vehicles are fed into the enforcement cameras installed in and around the city, which will send alerts to the traffic control room soon after locating such vehicles facilitating enforcement. We have also roped in law and order police to identify such vehicles and book criminal cases against the owners," Dr. Saleem said. "As far as genuine vehicle owners are concerned, the cases will be waived after cross checking with the database," he added.
More Related News
While the toll charges for a single way journey on the expressway for cars was ₹135, it will be increased to ₹165 and for a return journey on the same day, the charges will jump from ₹205 to ₹250.
"Most of Shaista Parveen's family members are in jail or absconding."
Gujarat Titans skipper Hardik Pandya won the toss and elected to field against Chennai Super Kings in the Indian Premier League opener in Ahmedabad on March 31.
Information and Public Relations Minister Ch. Venu Gopala Krishna on Friday appealed to the rural reporters to enroll in the Diploma in Journalism course being offered by the C. Raghavachari Andhra Pradesh Press Academy (APPA)
A cardiac patient, Udayagiri MLA Mekapati Chandrasekhar Reddy had earlier undergone treatment for the same in Chennai and Bengaluru
The victim reached home and reported the incident to her mother, with whose help she got treated at a hospital.
In the midst of a heated debate surrounding the legacy of Hindu ideologist Vinayak Damodar Savarkar, Maharashtra Minister Mangal Prabhat Lodha has announced plans to celebrate 'Swatantraveer Savarkar Vichar Jagran Saptaha', across the State.
Tamil Nadu Today newsletter, your guide from The Hindu on the major news stories to follow today
Prithu's feat gained traction in modern times after Assam Chief Minister Himanta Biswa Sarma cited the "path shown" by the 13th-century king to underscore the need to struggle against an existential threat.
Harvest of 'nendran' variety of bananas, which has good market potential in Kerala and some parts of Tamil Nadu, is in full swing in Tiruchi and Karur districts. Unlike varieties such as 'poovan', 'rasthali' 'karporavalli' and 'elachi', farmers in Tiruchi and Karur districts raise nendran banana intending to tap its demand in Kerala. It is mainly raised on agricultural fields situated close to the banks of the Cauvery in Karur and Tiruchi districts.
Misra and her team decided to build hybrid FETs to increase electron mobility.