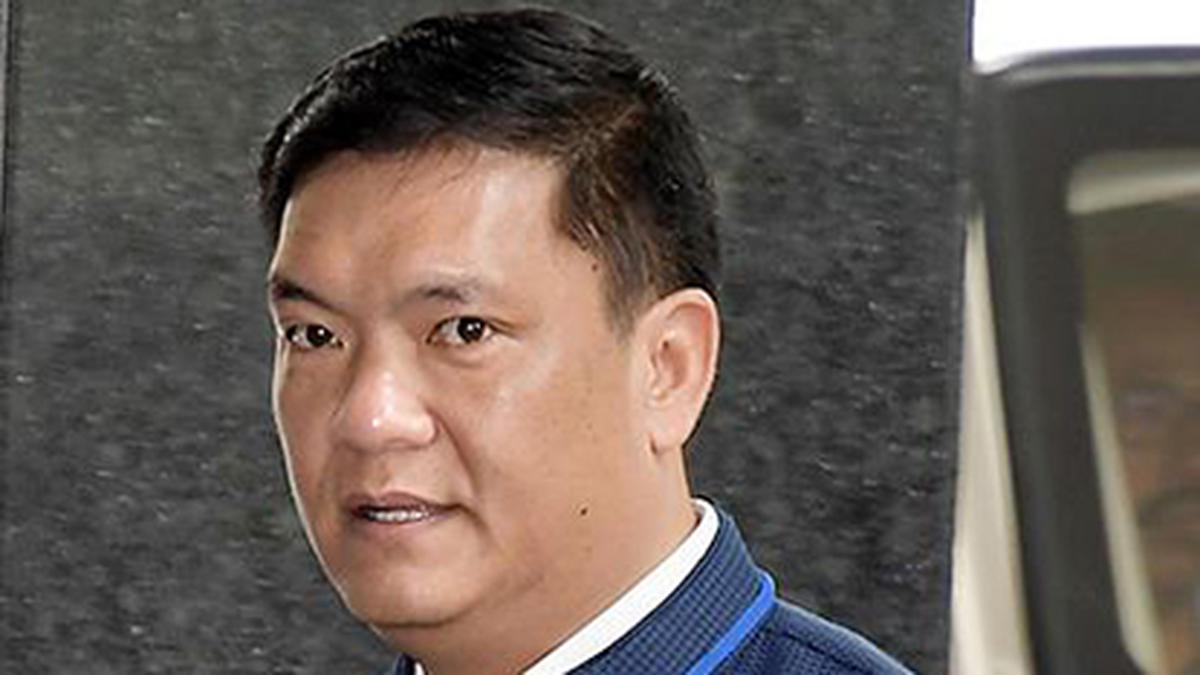 Arunachal CM assures cash incentives to State Wushu players who could not participate in Asian Games
The Hindu
Arunachal Pradesh CM assured that the three Wushu players of the State, who could not participate in the Asian Games at Hangzou in China, will be treated as participants of the Indian Wushu team and given ₹20 lakh incentive
Arunachal Pradesh Chief Minister Pema Khandu on Wednesday assured that the three Wushu players of the State, who could not participate in the Asian Games at Hangzou in China, will be treated as participants of the Indian Wushu team and given ₹20 lakh incentive as per the State's sports policy.
The three players could not participate in the sporting event due to denial of visa by the neighbouring country.
The three Wushu players — Onilu Tega, Nyeman Wangsu and Mepung Lamgu — along with Sports and Youth Affairs Minister Mama Natung, their coach Maibam Premchandra Singh, sports secretary Abu Tayeng, officials of the Arunachal Olympic Association and Arunachal Wushu Association had called on Khandu at his office, a CMO communiqué said.
Also read | Sports Minister will skip Asiad inaugural as China bars entry of Arunachal players
Stating that the three athletes were the first from Arunachal Pradesh to qualify for the Asian Games but had to miss the prestigious event for no fault of theirs, Mr. Khandu said they will receive the cash incentive of ₹20 lakh each in accordance with the State's sports policy for an athlete participating in the Asian Games.
He also said coach Maibam Premchandra Singh would also receive his share of 10% of the incentives awarded to the athletes.
Interacting with the young Wushu players, Mr. Khandu encouraged them to train harder and focus on the 2026 Asian Games scheduled to be held in Tokyo, Japan.
More Related News
PM Modi calls for climate financing, tech transfer to developing countries. India, UAE join forces to shape greener future, advancing global discourse on climate action. India-UAE ties span entire energy spectrum, focus on sustainability. Nations must ensure development priorities of Global South not compromised. COP28 to bring fresh impetus to effective climate action, international cooperation.
A UN FAO report has revealed a staggering hidden cost of agrifood systems surpassing $10 trillion. In India, this manifests as poverty, environmental harm, and health-related issues. To transform these systems, multi-cropping systems can protect farmers, improve nutrition, and positively impact ecology. India's Green Revolution led to monoculture, undermining seed sovereignty, nutrition, and ecology. Privatisation and deregulation increased debt and made farming unviable. Diversified multi-cropping systems rooted in agroecology principles can revitalise land and soil, improve nutrition, and sustain farmer incomes.
CWI withdraws Dominica as co-host of T20 World Cup due to delay in venue upgrades. CWI understands govt's decision & looks forward to working with them in future. Contingency plans ready; tournament schedule expected soon.
Check out the new adventure zones in and around Visakhapatnam
Someone in China created thousands of fake Meta social media accounts designed to appear to be from Americans and used them to spread polarising political content.
Climate change has been one of the biggest threats of this era posing major challenges to food and water security to not just human beings, but all species. But can science and technology address some of these issues, if not all, and offer a glimmer of hope of a sustainable future? Experts say yes.
India, Australia, U.K. co-hosted 1st Indo-Pacific Conf. in London to address security issues, build resilience & enhance stability. High Commissions of India & Australia welcomed U.K.'s interest in the region. India's High Commissioner rejected allegations of govt. killing separatists & U.S. prosecutors unveiled charges against Indian national in attempted murder-for-hire case. High Commissioner & Australian High Commissioner agreed to allow investigation results to be brought forward.
The workshop is tailored for a diverse audience, beckoning those eager to adopt a millet diet, individuals seeking a healthier way of life, and those grappling with lifestyle disorders.
Top news developments from Telangana today, December 1, 2023
Taslima Nasrin's novel Lajja brought her fame, a fatwa, and exile. Her works have been banned and fatwas renewed, and her views on patriarchy, gender injustice, and sexual freedom have caused controversy. Her new poetry collection Burning Roses in My Garden comprises poems that range in topic from love to language, country, and humanity. Nasrin's voice is soft, wistful, and reflective, and her blend of ideology and sensitivity is unique.