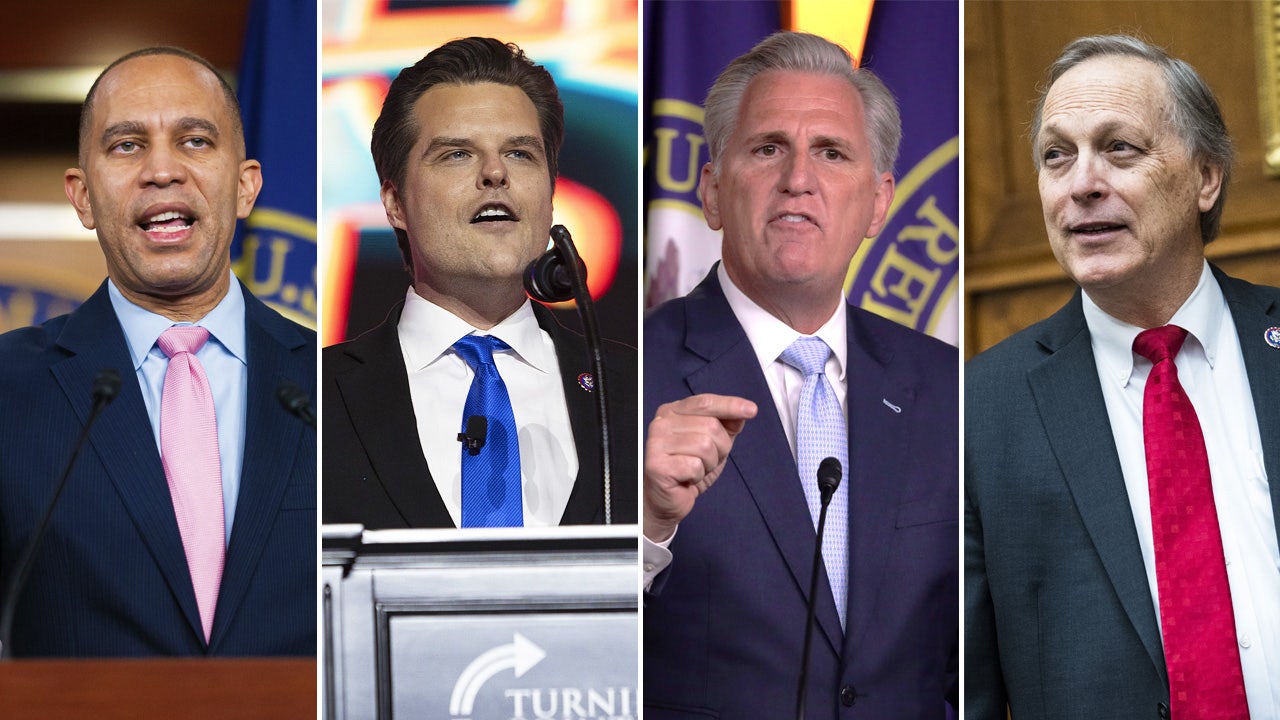 Anti-McCarthy Republicans, Dem leader Jeffries fundraise off of stalled House speaker vote
Fox News
Republicans who oppose McCarthy's nomination for House speaker, including one prominent Democrat, are now asking their supporters for financial support.
Of the 21 Republicans, at least two – Florida GOP Rep. Matt Gaetz and Arizona GOP Rep. Andy Biggs – have issued emails to supporters calling for donations amid their fight to prevent McCarthy from obtaining the speaker's gavel. Kyle Morris covers politics for Fox News. Story tips can be sent to kyle.morris@fox.com and on Twitter: @RealKyleMorris.
In a Thursday evening email from Gaetz, who has seemingly led the GOP movement against McCarthy in the House, the congressman wrote: "Maybe the right person for the job of Speaker of the House isn't someone who has sold shares of himself for more than a decade to get it…"
More Related News
Democratic senators released a statement calling for any additional aid to Israel, after the current cease-fire ends, to explicitly advance U.S. interests.
South Carolina Democrats warned that Black voters were questioning their loyalty to the Democratic Party as President Biden continues to struggle in the polls.
Democratic Sen. Chuck Schumer, the highest-ranking Jewish official in U.S., addressed an alarming rise in antisemitic incidents since Hamas' attack on Israel in October.
Chicago Mayor Brandon Johnson pinned blame for the city's migrant issues on his predecessor, former Mayor Lori Lightfoot, during a press conference.
The Coast Guard has called off a search for four crew members missing from a Bangladeshi bulk cargo ship vessel in Louisiana. The men went missing Monday.
House Speaker Mike Johnson, R-La., will join Senate Republican leaders for a crucial meeting Wednesday on the $106 billion national security aid package.
EXCLUSIVE: House Republicans are launching a "one-stop-shop" website for all things related to the impeachment inquiry against President Biden, Fox News Digital has learned.
A Florida grand jury is calling for legislation to track the immigration status of those arrested in the state, after a lengthy report documenting the effects of the migrant crisis.
The Central Intelligence Agency sent a reminder to staff about social media posts after a CIA officer shared a pro-Palestinian image two weeks following the Oct. 7 attack on Israel.
The Sumter County Sheriff's Office in South Carolina, with help from the Lee County Sheriff's Office, arrested a truck driver accused of stealing thousands of dollars of poultry.
Top GOP senators are demanding the Biden administration yield answers to Congress on its plans to implement "voter mobilization" efforts.