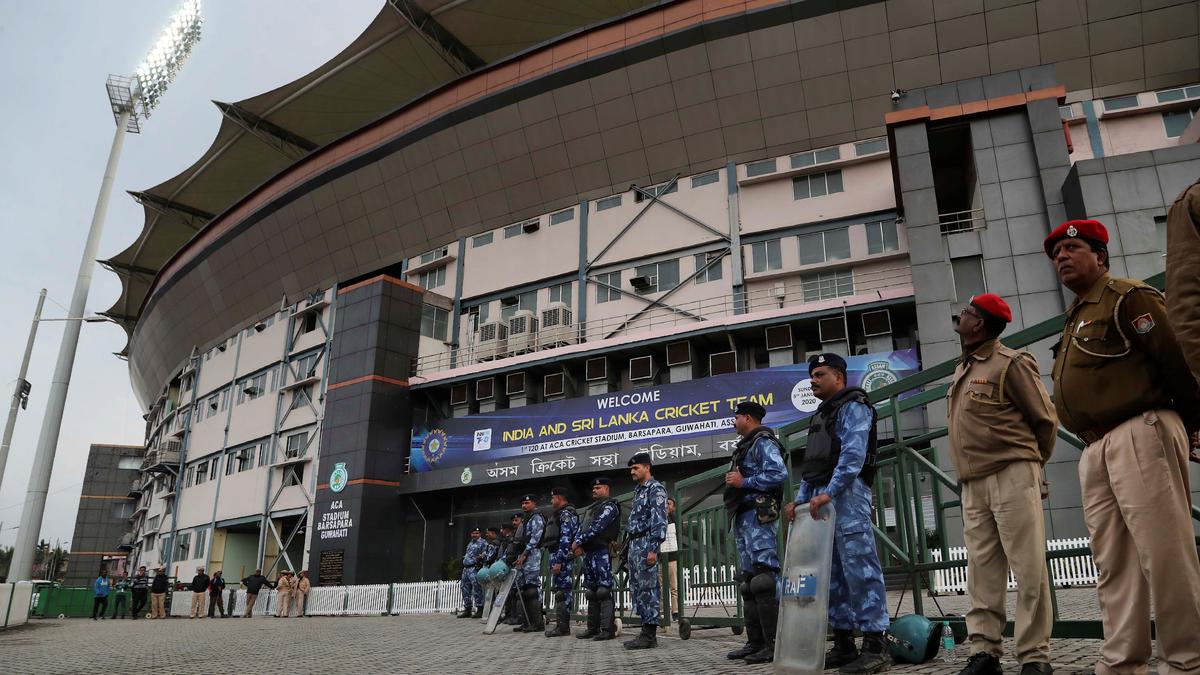 Ahead of ODI, repellents to keep snakes away from Guwahati stadium
The Hindu
The India-Sri Lanka series opener will be the first ODI after almost five years in the city
:
The Assam Cricket Association (ACA) has engaged pest controllers to spray the Barsapara stadium complex in Guwahati with snake repellents ahead of the first of the three one-day international (ODI) matches between India and Sri Lanka on January 10.
Serpents have occasionally been an issue at the Barsapara complex. A snake crawling across the field interrupted play during the second T20 international match between India and South Africa on October 2, 2022.
"Apart from fogging to keep mosquitoes away, we are spraying the stadium and the complex beyond with anti-snake chemicals," ACA president Taranga Gogoi told journalists on Saturday.
He also gave an overview of the security arrangements and said some 23,000 tickets for the match have been sold online and offline so far.
Devajit Saikia, the joint secretary of the Board of Control for Cricket in India said Assam would be hosting the first ODI after a gap of almost five years.
"It was in 2018 that we organised an ODI between India and West Indies. We hope to ensure a well-managed game between India and Sri Lanka for the only cricket stadium of international standard in the northeast to host more bilateral or World Cup matches," he said.
More Related News
Asked by TMC member Jawhar Sircar whether the appointment of Ms. Gowri was right, Leader of the House Piyush Goyal sought the indulgence of the chair.
One of the mightiest to perish was the Hittite empire, centered in modern Turkey and spanning parts of Syria and Iraq.
Ms. Murmu will be visiting Tamil Nadu for the first time after assuming office as the 15th President of India in July 2022
Pietersen has emerged as a huge advocate of the changes the SA20 has brought about, like allowing each captain the liberty to nominate 13 players to take the field
You can now wield a sharp blade and call it teamwork. We grapple with Hyderabad's latest sport
China's Alibaba Group said it is working on developing a ChatGPT-style artificial intelligence tool which is currently open to employees for testing
The court dismissed a petition filed by Godrej & Boyce company challenging acquisition proceedings initiated by the Maharashtra government and the NHSRCL in Mumbai's Vikhroli area for the project
Google's stock fell by nearly 8% after an ad for its Bard AI chatbot offered an incorrect answer
The violation was committed for the second, said officials
Justices R. Subramanian and Sathi Kumar Sukumara Kurup say they have been coming across, on a daily basis, incidents of exploitation by the government
The Centre's assertion came in response to a question in Lok Sabha by Congress MP Shashi Tharoor, who asked about "discrepancies" in the implementation of the projects under the smart city programme.