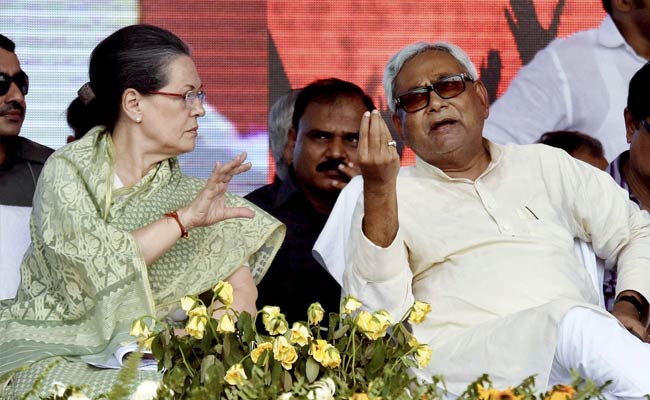 After 6 Years, Nitish Kumar, Lalu Yadav To Meet Sonia Gandhi In Delhi
NDTV
Nitish Kumar and Lalu Yadav had hoped Rahul Gandhi will be present for the meeting, but he is in Kerala, leading the Congress's Bharat Jodo Yatra.
The two top leaders of the Grand Alliance in Bihar -- Chief Minister Nitish Kumar and Rashtriya Janata Dal's Lalu Yadav -- will meet Congress chief Sonia Gandhi in Delhi on Sunday evening, sources have said. This will be their first meet in more than six years. Sources said the two Bihar leaders had also hoped that Rahul Gandhi will be present for the meeting. But Mr Gandhi is in Kerala, leading the Congress's Kanyakumari to Kashmir Bharat Jodo Yatra.
Nitish Kumar and Sonia Gandhi had met last at an Iftaar ahead of Bihar elections in 2015.
The Bihar Chief Minister had met Rahul Gandhi during his last visit to Delhi earlier this month. Mrs Gandhi was abroad at the time for medical treatment.
As for Mr Yadav, he was jailed in 2018 in several fodder scam cases, after which came the pandemic-imposed isolation. In the coming weeks, the ailing leader who is out on bail, will be going to Singapore for a kidney transplant.
More Related News
The National Investigation Agency, or NIA, had raided offices of the Popular Front of India, or PFI, across the country last week
NCP targeted Ms Sitharaman for her remarks made at a press conference in Pune on Saturday that the rupee has "held back very well" against the US dollar when compared to other currencies.
The commissioning of all the critical equipment for the manufacturing and assembly requirement has been completed, HAL said.
The Congress Legislature Party was to meet in the presence of two central observers for the announcement that Rajasthan Chief Minister Ashok Gehlot will run for Congress president and someone will take over in his place.
Ramon Magsaysay award recipient Sandeep Pandey and others were scheduled to participate in the foot march, titled 'Apologising to Bilkis Bano'.
"It's a relationship that has neither ended up serving Pakistan well nor serving the American interests," S Jaishankar said at an event in Washington
Congress President: Shashi Tharoor said he was interested in fighting the Congress president poll but the picture will be clearer only after the last date for submitting nomination papers.
The MLAs met with the Speaker and claimed they will resign if Ashok Gehlots rival Sachin Pilot is made Chief Minister.
Mukul Rohatgi, 67, stepped down as Attorney General in June 2017. KK Venugopal took over after him.
"Ankita used to always say that after completing class 12, she would have to support her family," said Ankita's school friend Vivek Negi
Harsh Solanki, who is a civic employee in Ahmedabad, will visit Delhi tomorrow with his family. Arvind Kejriwal will bear the costs. The family will stay in Punjab Bhavan.