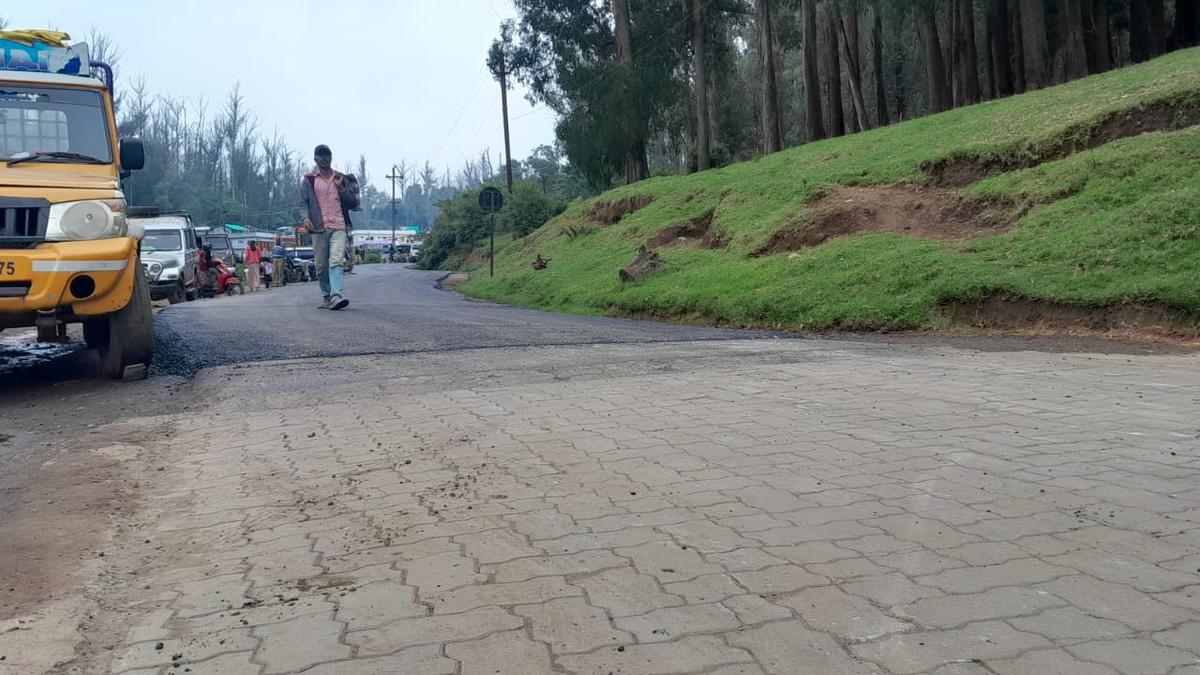 Activists raise concern over selection of roads for repair work by Udhagamandalam Municipality
The Hindu
Activists raise concerns over UMC re-laying roads in good condition, neglecting stretches with high vehicle load. Shobana Chandrashekar of MOB Project says roads re-laid incl. Collectorate-Navanagar Palace, Hospital Road & Aramby Road. Protest closure of Aramby Road near court complex. P. Egaraj, Municipal Commissioner, says 32 roads being re-laid with renewal bitumen. ₹12.45 crore sanctioned for road work on surfaces >4 yrs old or damaged due to rains.
Citizen rights activists have raised concerns about the Udhagamandalam Municipality (UMC) re-laying roads in areas where the roads are in good condition, while neglecting stretches that have a high vehicle load and require more urgent repairs.
Shobana Chandrashekar, one of the founders of the Make Ooty Beautiful (MOB) Project, said that at least three stretches of roads were re-laid by the UMC in the last few weeks, including the stretch from the Collectorate to the Navanagar Palace, the Hospital Road and on Tuesday, the Aramby Road that connected the town to the newly-opened Combined District Court Complex.
The three roads were in good condition and did not require re-laying. There were other roads within municipality limits that required urgent repairs, she said.
"The road works are taken up in the morning, when people have to go to work or to drop off their children to school. Recently, the Hospital Road was being laid during the middle of the day, bringing traffic, including ambulances to a stop," said Ms. Chandrashekar.
The activist also protested closure of the Aramby Road near the court complex by the municipality on Tuesday, denying access to residents' who used it to reach their homes.
P. Egaraj, Municipal Commissioner, said that 32 roads belonging to the civic body, measuring 28.15 km, varying from a few hundred metres to 800 metres, were being re-laid with renewal bitumen. "The renewal bitumen is being laid on certain stretches while patchwork is also being done on damaged roads."
He said that the Directorate of Municipal Administration sanctioned ₹12.45 crore for the road work, which was being undertaken on road surfaces that were more than four years old or were in a highly damaged state due to the rains.
More Related News
.Varavara Rao allowed to travel to Hyderabad for cataract surgery: NIA court permits activist to travel Dec 5-11; must report to NIA Dec 4 and provide details of journey. Court warns against misuse of liberty.
Adya Singh from Patna wins National Crossword Champion trophy 2023. Sahil Sabne & Sakshee Vaidya from Pune & Dhara & Lakshmi from Delhi are runners-up. 38 teams from across India competed in 2-day Grand Finale at YMCA Auditorium, New Delhi. Alan Cowell, English teacher from Don Bosco Academy, Patna, was Cross Master. Civil society initiative Extra-C has been organizing contest since 2013, acknowledged by Limca Book of Records.
Dudiya is a gripping tale of a young female Naxal recruit, exploring the exploitation of Adivasis and the rise of Naxalism in India. Through the character of Dudiya, Vishwas Patil sensitively portrays the dark reality of India's Maoist insurgency, while gently scoffing at the perceived threat of the 'urban Naxal'.
Kerala HC Division Bench stays single judge's order nullifying election of V.A. Sreejith as chairperson of Education Standing Committee of Kochi Corporation. Court directs State Election Commission to keep ballots in sealed cover. Single judge had allowed petition filed by UDF candidate Bastin Babu. Case to be considered later.
NCP leader Chhagan Bhujbal faced opposition from Maratha community during his tour of villages affected by unseasonal rains in Nashik district. He was opposed for his stand on Maratha reservation issue. He was shown black flags and slogans were raised against him. He managed to visit few villages and had to cut short his tour due to the opposition. He assured to make efforts to get special funds approved for the farmers and urged not to bring politics in it.
Devanampiye and Piyadasi (meaning 'Devanampriya' and 'Priyadarshi' in Sanskrit and 'beloved of the gods' and 'one with a benevolent gaze' in English) were the two names that were widely referred to, either separately or together, in the ancient inscriptions and Buddhist literature found across South Asia. Since nobody could authentically ascertain the identity of the person, different historians came up with different opinions. In the course of lengthy debate, some even attributed them to an imaginary personality and a great mythological figure.
Despite discrepancies in voter lists and lack of awareness, Hyderabad saw enthusiastic participation from senior citizens and individuals with disabilities. Raju and his son were unable to cast their votes due to his name missing from the list, while others faced similar disappointments. At various polling stations, individuals argued with staff due to lack of awareness, while others hurried to nearby stationeries to obtain printouts. Subramanya Ponnada, a physically challenged man, demonstrated his commitment by casting his vote.
Union Minister of State for Health and Family Welfare Bharati Pravin Pawar inaugurated the 11th phase of Thiruvananthapuram Rozgar Mela, aimed at providing equal employment opportunities for all. Prime Minister Narendra Modi's message was screened, and 25 job aspirants were given appointment letters. Skill India and Start-up India were launched to promote entrepreneurship. The government is committed to building a nation where citizens can realise their wishes.
Dalit youth Shyam Kumar was allegedly kidnapped, abused, and urinated on by upper caste college-mates in retaliation to a two-year-old fight. Despite laws to protect SCs, discrimination and violence are common, with victims often left helpless when police protect wrong-doers. The Tsunduru and Karamchedu massacres are examples of horrific caste atrocities, with families still awaiting justice. Effective monitoring of SC/ST (Prevention of Atrocities) Act is critical to reduce such violence.
Delhi Health Minister Saurabh Bharadwaj on Thursday said two government hospitals — Rajiv Gandhi Super Speciality Hospital and Chacha Nehru Bal Chikitsalaya — will start screening child patients admitted for respiratory ailments through multiplex PCR tests.