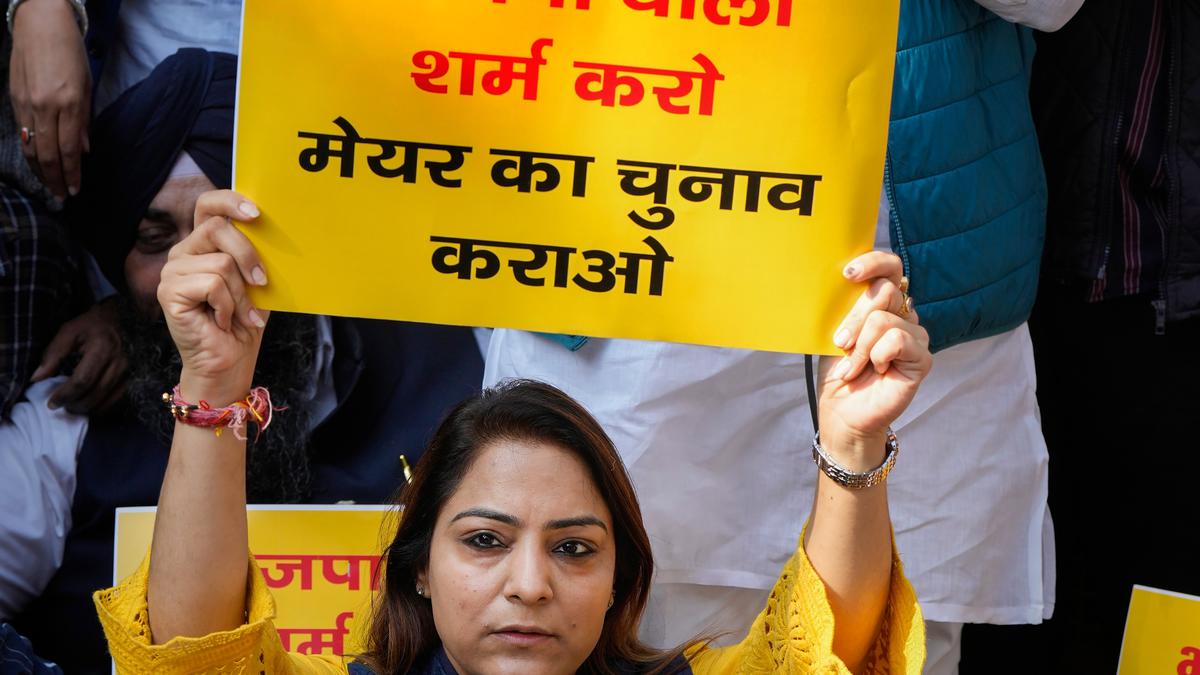 AAP's MCD Mayor candidate seeks SC intervention to conduct mayoral poll in Delhi
The Hindu
Appearing before a Bench led by Chief Justice of India (CJI) D.Y. Chandrachud, senior advocate Abhishek Manu Singhvi, representing AAP mayoral candidate Shelly Oberoi, said the causes of the delay was "brazen" and amounted to a "murder of democracy"
The Supreme Court (SC) on Tuesday agreed to hear a petition seeking judicial intervention after the Delhi Mayor polls got stalled for the third time.
Appearing before a Bench led by Chief Justice of India (CJI) D.Y. Chandrachud, senior advocate Abhishek Manu Singhvi, representing AAP mayoral candidate Shelly Oberoi, said the causes of the delay was "brazen" and amounted to a "murder of democracy".
"They have let the nominated members to vote despite Article 243R of the Indian Constitution," Mr. Singhvi submitted.
The Municipal Corporation of Delhi (MCD) House was adjourned on Monday without electing the Mayor and the Deputy Mayor of Delhi. The AAP had said it would approach the Supreme Court for a court-monitored mayoral elections.
Ms. Oberoi is approaching the apex court for the second time in recent days. Last week, she had withdrawn her first petition seeking time-bound conduct of mayoral polls of the Municipal Corporation of Delhi (MCD) after the elections were announced for February 6.
However, while withdrawing, she had sought permission to move the apex court again, if necessary. Earlier instances of ruckus were triggered by the Lieutenant-Governor (L-G) nominating 10 aldermen. Matters had taken a turn for the worse when Presiding Officer Satya Sharma invited the aldermen to take oath first.
More Related News
Tamil Nadu Today newsletter, your guide from The Hindu on the major news stories to follow today
Prithu's feat gained traction in modern times after Assam Chief Minister Himanta Biswa Sarma cited the "path shown" by the 13th-century king to underscore the need to struggle against an existential threat.
Harvest of 'nendran' variety of bananas, which has good market potential in Kerala and some parts of Tamil Nadu, is in full swing in Tiruchi and Karur districts. Unlike varieties such as 'poovan', 'rasthali' 'karporavalli' and 'elachi', farmers in Tiruchi and Karur districts raise nendran banana intending to tap its demand in Kerala. It is mainly raised on agricultural fields situated close to the banks of the Cauvery in Karur and Tiruchi districts.
Misra and her team decided to build hybrid FETs to increase electron mobility.
Whatever progress that is visible in Andhra Pradesh is due to the funds sanctioned by the Central government, says BJP State president Somu Veerraju
A senior Jammu and Kashmir government official told The Hindu that several claims could not be processed, as the individuals were not able to produce original documents such as refugee cards
Two persons, who ran a business cleaning septic tanks in the Nilgiris, were arrested by the district police on Friday after they allegedly dumped human faeces in a stream running into a reserve forest that also serves as an important source of drinking water for villagers in Nanjanad panchayat.
On Tuesday, "unknown" men allegedly trespassed, shouted slogans and harassed women students during the 'Shruti' festival at Delhi Univeristy's Indraprastha College for Women.
The memorandum said if ED does not intervene, the accused may deal with the ill-gotten funds.
The delegation, led by Amir Ohana, Speaker of the Knesset (Parliament) of Israel, is in India at the joint invitation of Vice President and Rajya Sabha Chairperson Jagdeep Dhankhar and Speaker Birla