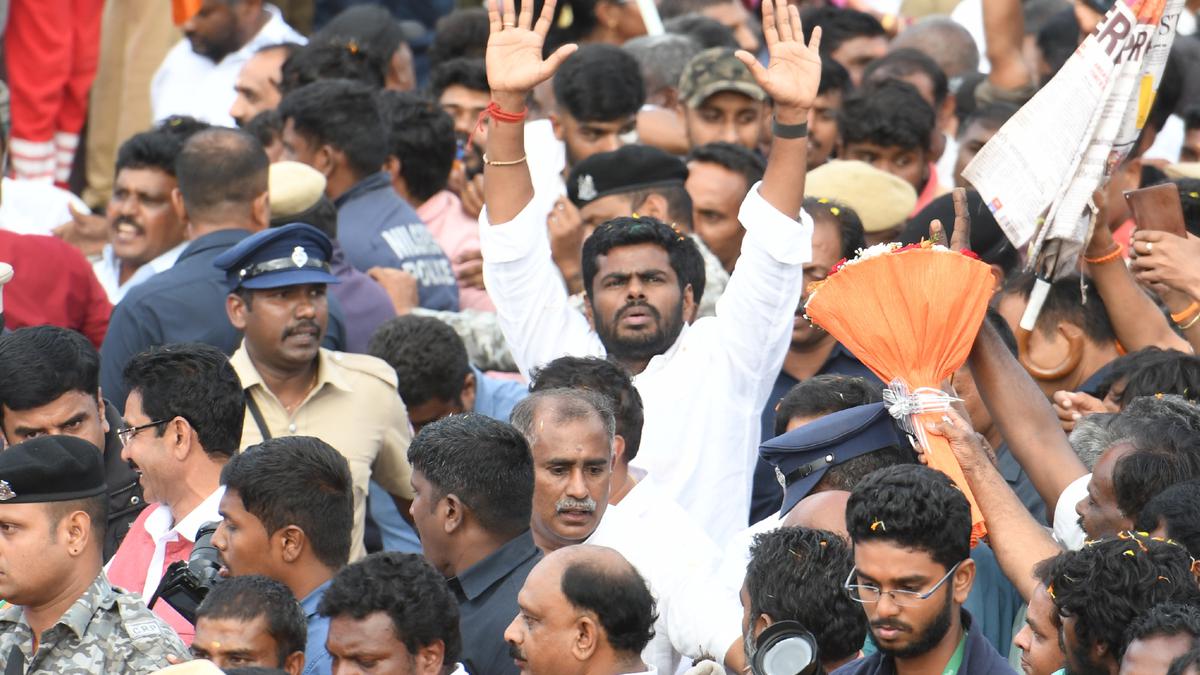 A. Raja, an 'absentee landlord,' who speaks ill of sanatana dharma, says Annamalai in the Nilgiris
The Hindu
K. Annamalai critiqued Nilgiris MP A. Raja, calling him an "absentee landlord" who ignores constituents' issues. He urged people to elect a BJP MP who will listen to their grievances. He also highlighted the Modi govt's pro-people schemes and alleged 16 out of 34 DMK Ministers have corruption charges pending. He announced relief for family of man killed in elephant attack.
State president of the K. Annamalai criticised Nilgiris Lok Sabha MP, A. Raja, comparing him to an "absentee landlord" who is never seen by his constituents. He also said that Mr. Raja did not speak about any of the problems in his constituency, but instead focused on speaking ill of sanatana dharma.
He was speaking at the 'En Mann En Makkal' padayatra in Gudalur in the Nilgiris on Tuesday.
"2G Raja (referring to the 2G spectrum case) is like an 'absentee landlord'. Nobody in the Nilgiris has seen him. He is only here to cause problems and speak badly of sanatana dharma, comparing it to HIV and AIDS… He has no connection to the Nilgiris and no interest in trying to address people's issues. That is why the BJP is addressing all the people's problems in the Nilgiris," he said.
He urged the people to elect the next MP from the BJP alliance, who will listen to the people's grievances. "As far as I am concerned, there are only two castes in India – the rich and the poor. The BJP and Prime Minister Narendra Modi wants to eliminate poverty through schemes targeted at the poor. Over the years, the Modi government, which is a pro-people government has built lakhs of houses and toilets, as well as ensuring loans to farmers, LPG cylinder connections and electricity for all," said Mr. Annamalai.
He also alleged that 16 out of 34 DMK Ministers had corruption charges pending against them. "11 of these allegations are not made by the BJP. They are from when the DMK was last in power and the 11 cases are pending in court. The other five are complaints of corruption from the BJP. If you count correctly, unlike Mr. Stalin, 16 out of 34 Ministers are accused of corruption," he said. In contrast, our Council of Ministers is 79, including the Prime Minister, However, not even one of the Ministers has been charged with corruption for nine years since we came to power," he said.
Mr. Annamalai also announced that the party would provide financial relief for the family of a 45-year-old man who was killed in an elephant attack in Cherambadi on Tuesday.
Later in the evening, Mr. Annamalai spoke at the 'En Mann, En Makkal' padayatra in Udhagamandalam.
More Related News
Check out the new adventure zones in and around Visakhapatnam
Someone in China created thousands of fake Meta social media accounts designed to appear to be from Americans and used them to spread polarising political content.
Climate change has been one of the biggest threats of this era posing major challenges to food and water security to not just human beings, but all species. But can science and technology address some of these issues, if not all, and offer a glimmer of hope of a sustainable future? Experts say yes.
India, Australia, U.K. co-hosted 1st Indo-Pacific Conf. in London to address security issues, build resilience & enhance stability. High Commissions of India & Australia welcomed U.K.'s interest in the region. India's High Commissioner rejected allegations of govt. killing separatists & U.S. prosecutors unveiled charges against Indian national in attempted murder-for-hire case. High Commissioner & Australian High Commissioner agreed to allow investigation results to be brought forward.
The workshop is tailored for a diverse audience, beckoning those eager to adopt a millet diet, individuals seeking a healthier way of life, and those grappling with lifestyle disorders.
Top news developments from Telangana today, December 1, 2023
Taslima Nasrin's novel Lajja brought her fame, a fatwa, and exile. Her works have been banned and fatwas renewed, and her views on patriarchy, gender injustice, and sexual freedom have caused controversy. Her new poetry collection Burning Roses in My Garden comprises poems that range in topic from love to language, country, and humanity. Nasrin's voice is soft, wistful, and reflective, and her blend of ideology and sensitivity is unique.
.Varavara Rao allowed to travel to Hyderabad for cataract surgery: NIA court permits activist to travel Dec 5-11; must report to NIA Dec 4 and provide details of journey. Court warns against misuse of liberty.
Adya Singh from Patna wins National Crossword Champion trophy 2023. Sahil Sabne & Sakshee Vaidya from Pune & Dhara & Lakshmi from Delhi are runners-up. 38 teams from across India competed in 2-day Grand Finale at YMCA Auditorium, New Delhi. Alan Cowell, English teacher from Don Bosco Academy, Patna, was Cross Master. Civil society initiative Extra-C has been organizing contest since 2013, acknowledged by Limca Book of Records.