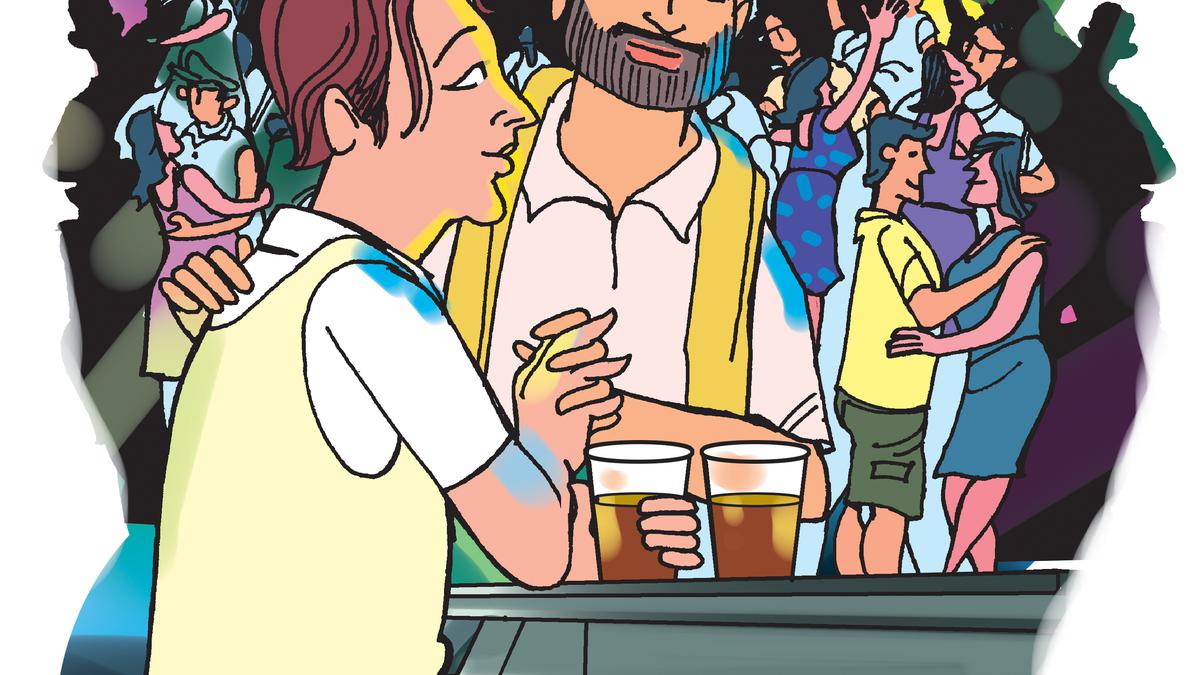 A queer guide to a Valentine's eve in Chennai
The Hindu
If you have gone clubbing in Chennai, you are familiar with the 'couple entry' rules. As Valentine's day approaches, we explore how the hospitality industry is slowly responding to members of the LGBTQIA+ community and updating their definitions of a couple
The run-up to Valentine's day in Chennai already has bars and restaurants in a tizzy. Red balloons are being mounted on the walls of clubs, promotions are being announced, roses are being pruned.
The day however has not been easy for members of the queer community to celebrate. About 10 years ago around the same time, Chennai-based fashion choreographer Karun Raman says that he was physically assaulted at a club in the city, for his sexuality.
"Today however, I can see a 50-50 change. Some places are more accepting of the queer community than others. I can now enter a club with a gajra (flowers) in my hair. That wasn't possible before," he says.
This incident is not isolated. Several other interviewees also recount instances of their personal boundaries being regularly violated while stepping out for a drink with friends or while being out on a date. While Chennai's bars and clubs still struggle with understanding 'couple entry' outside of its heteronormative definition, we speak to representatives from hotels and restaurants who tell us how they have made their spaces inclusive to members of the queer community.
At the Social chain of bars, which has an outlet in Chennai's Express Avenue mall, the staff undergoes regular and expansive inclusivity training to accommodate same-gendered couples, members of the LGBTQIA+ communities and disabled people.
Pearl Daruwalla, manager, Diversity and Inclusion at Impresario Handmade Restaurants which runs the chain of bars across India, says that besides training for staff at their corporate offices, on-ground training for staff through sensitisation and awareness has helped create a brand that is inclusive.
"We have also educated our staff about entry policies regarding same-gendered couples as we accommodate people from across the spectrum," she says.
More Related News
The victim reached home and reported the incident to her mother, with whose help she got treated at a hospital.
In the midst of a heated debate surrounding the legacy of Hindu ideologist Vinayak Damodar Savarkar, Maharashtra Minister Mangal Prabhat Lodha has announced plans to celebrate 'Swatantraveer Savarkar Vichar Jagran Saptaha', across the State.
Tamil Nadu Today newsletter, your guide from The Hindu on the major news stories to follow today
Prithu's feat gained traction in modern times after Assam Chief Minister Himanta Biswa Sarma cited the "path shown" by the 13th-century king to underscore the need to struggle against an existential threat.
Harvest of 'nendran' variety of bananas, which has good market potential in Kerala and some parts of Tamil Nadu, is in full swing in Tiruchi and Karur districts. Unlike varieties such as 'poovan', 'rasthali' 'karporavalli' and 'elachi', farmers in Tiruchi and Karur districts raise nendran banana intending to tap its demand in Kerala. It is mainly raised on agricultural fields situated close to the banks of the Cauvery in Karur and Tiruchi districts.
Misra and her team decided to build hybrid FETs to increase electron mobility.
Whatever progress that is visible in Andhra Pradesh is due to the funds sanctioned by the Central government, says BJP State president Somu Veerraju
A senior Jammu and Kashmir government official told The Hindu that several claims could not be processed, as the individuals were not able to produce original documents such as refugee cards
Two persons, who ran a business cleaning septic tanks in the Nilgiris, were arrested by the district police on Friday after they allegedly dumped human faeces in a stream running into a reserve forest that also serves as an important source of drinking water for villagers in Nanjanad panchayat.
On Tuesday, "unknown" men allegedly trespassed, shouted slogans and harassed women students during the 'Shruti' festival at Delhi Univeristy's Indraprastha College for Women.