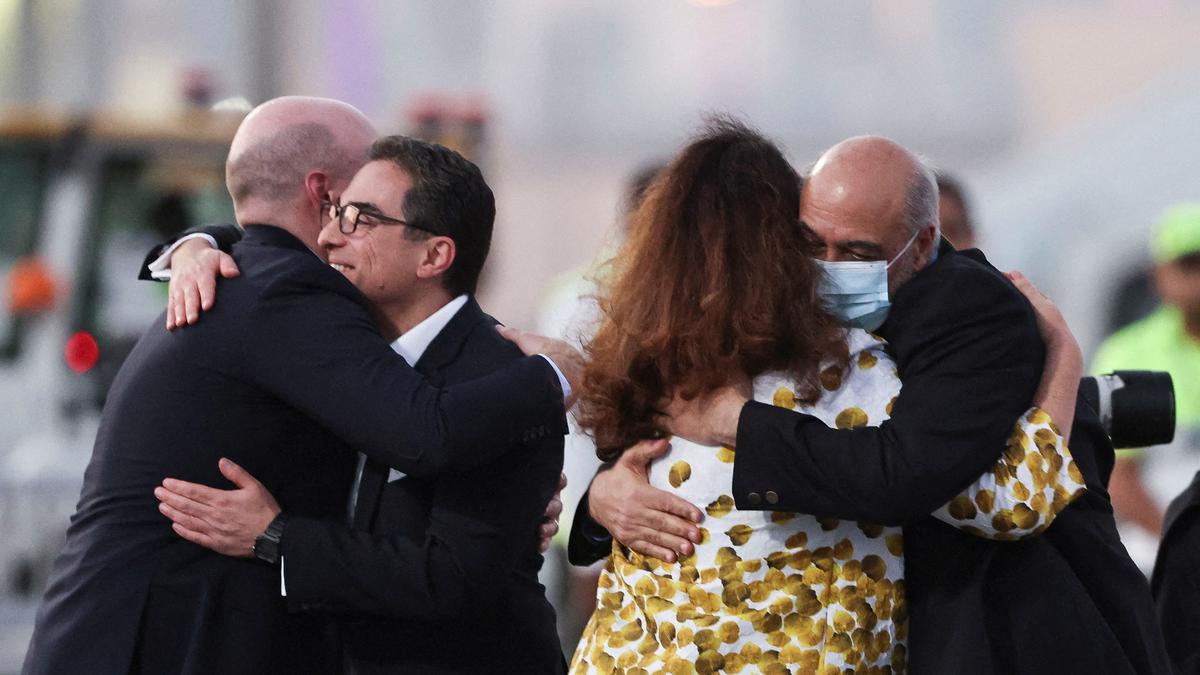 5 prisoners freed in U.S. swap with Iran, arrive in Qatar
The Hindu
Five Americans detained in Iran for years freed in exchange for $6B in frozen assets. U.S. and Iran remain locked in disputes over Tehran's nuclear programme and other matters. The exchange unfolded amid a major American military buildup in the Persian Gulf. Freed prisoners thanked those who kept their plight alive, while Biden faced criticism from opponents over monetary arrangement. U.S. pledged to keep pressing for accountability for Iran and other regimes over wrongful detentions. Tensions remain high between U.S. and Iran, with possibility of U.S. troops boarding ships in Strait of Hormuz. U.S. demands more info on Bob Levinson, sanctions former Iranian President and Intelligence Ministry.
Five Americans detained for years in Iran walked off a plane and into freedom Monday, many arm-in-arm, as part of a deal that saw President Joe Biden agree to unlock nearly $6 billion in frozen Iranian assets. The deal brought Biden profuse thanks from their families but heat from Republican opponents for the monetary arrangement with one of America's top rivals.
"Today, five innocent Americans who were imprisoned in Iran are finally coming home," President Biden said in a statement released as the plane carrying the group from Tehran landed in Doha, Qatar. A plane carrying the Americans home to the United States was due to land Monday night.
Iran's hard-line President Ebrahim Raisi, on hand for the United Nations General Assembly in New York, suggested that Monday's exchange could be "a step in the direction of a humanitarian action between us and America."
"It can definitely help in building trust," Raisi told journalists.
Despite the successful negotiations Monday, however, tensions are almost certain to remain high between the U.S. and Iran, which are locked in disputes over Tehran's nuclear programme and other matters. Iran says the programme is peaceful, but it now enriches uranium closer than ever to weapons-grade levels.
The carefully negotiated and timed prisoner exchange unfolded amid a major American military buildup in the Persian Gulf, with the possibility of U.S. troops boarding and guarding commercial ships in the Strait of Hormuz, through which 20% of all oil shipments pass.
After the plane slowed to a stop in Doha, three of the prisoners walked down the stairs. They hugged the U.S. ambassador to Qatar, Timmy Davis, and others.
More Related News
Indian-American policy expert Taral Patel, running for Fort Bend County Commissioner in Texas, has received racist and hate-filled messages on social media. He shared a photo of some of the messages, which included comments about him being a foreigner and worshipping animals. Patel said these messages are from a place of fear and misguided beliefs, and his campaign is focused on hard work and respect for all communities. He is a proud American, growing up in the county and attending local schools.
London police officers refusing to conduct armed patrols after colleague charged with murder of unarmed Black man. Home Secretary to review armed policing to ensure officers have confidence to do their jobs. Fatal shootings by police in U.K. are rare; few cases of officers charged with murder/manslaughter in recent years.
Ethnic Armenian refugees cross border from Nagorno-Karabakh to Kornidzor as Azerbaijan offensive ends three-decade-old conflict. Armenian PM Pashinyan blames ally Russia for insufficient protection, seeks new alliances. US expresses deep concern for ethnic Armenians, while Azerbaijan seeks to reintegrate them as equal citizens.
Japan releases contaminated water from Fukushima plant, sparking public outcry. Govt. claims it is safe, but many fear health risks. Japan has met with regional counterparts to discuss the treatment and release plan, and has set aside funds to compensate fishers. Govt. is looking to revive nuclear power industry, and restore public trust.
NASA's Osiris-Rex mission to collect asteroid samples from Bennu culminates September 24 with a soft landing in Utah. The samples will provide insight into the formation of our solar system and how Earth became habitable. The capsule will be airlifted to a clean room and the sample sent to mission partners Japan and Canada. Results will be announced October 11.
About 100 people were injured in the blaze at Pingtung Technology Industrial Park. The fire was not extinguished until the next day.
The Israeli military said it moved into the Nour Shams refugee camp to destroy what it described as a militant command center and bomb-storage facility
Tens of thousands of people marched in France on September 23 to protest police violence
The aid shipments and evacuations followed Azerbaijan's months-long road blockade of the region led to food and fuel shortages
Western powers are fighting Russia through support for Ukraine, according to Lavrov. He criticized Westerners for providing military equipment, intelligence, and advisors, as well as for allowing mercenaries to fight in Ukraine. He also dismissed Zelenskyy's 10-point plan for ending the war.
Despite the new push, the White House does not have unilateral power to meaningfully limit gun use in the United States