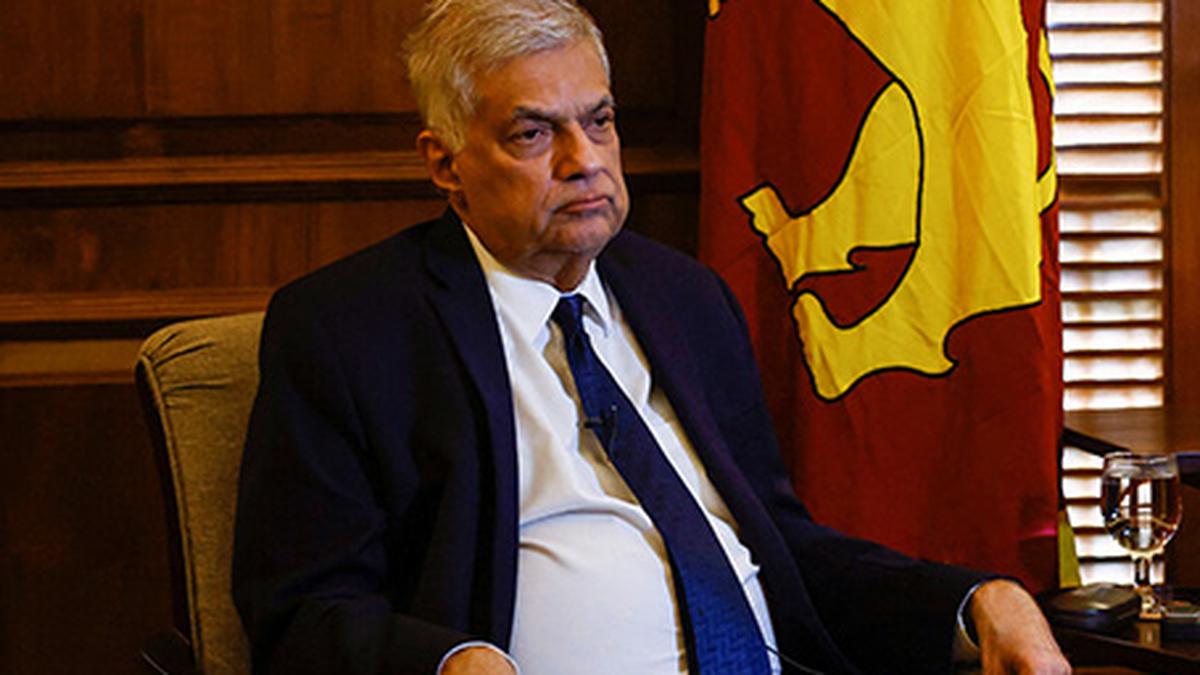 2023 will be 'critical year', plan to turn around the economy, says Sri Lanka President Wickremesinghe in New Year's message
The Hindu
The Sri Lankan government in May last year declared a debt default on over $51 billion in the foreign loan - a first in the country's history.
Sri Lanka President Ranil Wickremesinghe on Sunday said 2023 will be a "critical year" for the cash-strapped country, as his regime desperately scrambles to inject much-needed impetus to galvanise the beleaguered economy.
Sri Lanka was hit by an unprecedented financial crisis in 2022 due to a severe paucity in foreign exchange reserves that also sparked political turmoil in the island nation that led to the ouster of the all-powerful Rajapaksa family.
"We are looking at the New Year 2023 after having undergone the bleakest of times, immense hardships, as well as the uncertainties and hopelessness of the last year," Mr. Wickremesinghe said in his New Year's message, as Sri Lanka turns 75 as an independent nation later this year.
"I understand the great burdens that are placed on all of us and the setbacks that a majority of us have suffered due to the country's abject economic collapse," he said.
From April to July, chaos reigned supreme on Sri Lanka, with miles-long queues forming at fuel stations and irate residents coming out in thousands blocking roads with empty cooking gas cylinders.
The Sri Lankan government in May last year declared a debt default on over $51 billion in the foreign loan - a first in the country's history.
"Indeed, 2023 will be a critical year in which we plan to turn around the economy. 2023 is also the 75th year of independence from the British Empire," he noted.
More Related News
Several Congress functionaries were detained in Gujarat on March 26 during the party's 'Sankalp Satyagrah' agitation against the disqualification of their leader Rahul Gandhi as Lok Sabha MP following his conviction in a defamation case by a Surat court.
The Forest Department has filed a case and issued a notice to an Uttar Pradesh man who rescued a Sarus crane and took care of it for a year, officials said. The crane, which lived with Arif Khan Gurjar in the Mandkha village of Amethi district, accompanied him to his fields and was accepted "like a family member", was taken away by Forest Department.
Haryana Chief Minister Manohar Lal Khattar has called upon farmers to join Farmers Producer Organizations in large numbers
Following his disqualification from the Lok Sabha, Congress leader Rahul Gandhi on March 26 changed his bio on Twitter where he described himself as a "Dis'Qualified MP"
Former Finance Minister and senior Congress leader P. Chidambaram on Sunday said his party's leader Rahul Gandhi's disqualification from Lok Sabha would strengthen the Congress party, helping its prospects in next year's general election.
Assembly elections are set to be held in Madhya Pradesh the end of the year.
Researchers have discovered a new species of Moray eel at the Mudasalodai fish landing centre off the Cuddalore coast. The species has been named after Tamil Nadu as Gymnothorax tamilnaduensis with common name as Tamil Nadu brown moray.
The Punjab and Haryana units of Congress began a day-long 'Sankalp Satyagraha' here on Sunday to protest against Rahul Gandhi's disqualification from Lok Sabha. Both units are holding separate events at the state headquarters as part of the protest programme in which many senior leaders are taking part.
In his 99th Mann Ki Baat address, PM Modi called on the citizens to come ahead for organ donation
The Punjab Police has arrested a woman from Patiala for allegedly sheltering fugitive radical preacher Amritpal Singh and his aide
UVCE alumni have alleged that the State government not providing adequate funds was an attempt to push the premiere institute towards "self-financing model", which will make technical education unaffordable to the poor and downtrodden communities.