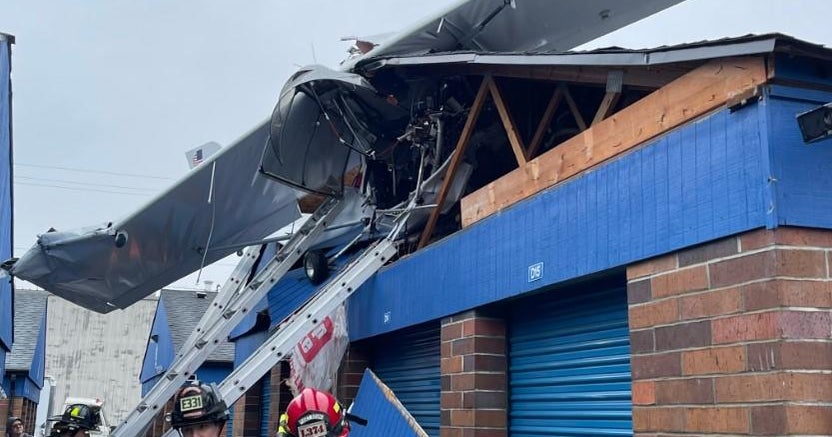 2 hurt after small plane crashes into storage building in Washington state
CBSN
Two people suffered life-threatening injuries after a single-engine plane crashed into a storage unit in Kent, Washington, Saturday afternoon, authorities said.
The single-engine Challenger II, carrying two people, slammed into the storage building at about 1:30 p.m. Pacific time, according to the Federal Aviation Administration. A photo from the scene showed the plane lodged in the roof of the structure.
The Puget Sound Regional Fire Authority reported that the two people aboard suffered life-threatening injuries. There was no word of injuries to anyone on the ground.
More Related News
New York — An ex-gynecologist convicted of sexually abusing hundreds of patients was ordered to spend the next two months in jail as he awaits sentencing, a federal judge in New York City ruled Wednesday.
Authorities say they've identified a woman who went missing in Florida and died in south Georgia after 37 years of not knowing who she is. The woman, who suffered blunt trauma to her head and died after being injured, has been identified as Mary Anga "Angie" Cowan, who went missing in Seminole County, Florida, in the mid-1980s, the Georgia Bureau of Investigation announced Tuesday.
North Las Vegas, Nevada — A former "Dances With Wolves" actor who faces at least five felonies for allegedly sexually abusing Indigenous girls is scheduled to face a judge for the first time in the case on Thursday.
A man convicted of fatally shooting a Dallas police officer nearly 16 years ago after a high-speed chase was executed on Wednesday.
The FBI is investigating Rep. George Santos' alleged role in purporting to raise funds for a veteran's dying dog through a pet charity, a representative for the veteran told CBS News on Wednesday.
Police have arrested a man who they say was caught on surveillance video launching a Molotov cocktail at a New Jersey synagogue over the weekend.
The men and women of the United Ukrainian Ballet company will make their U.S. debut Wednesday night at the Kennedy Center in Washington, D.C.
Hunter Biden's legal team went on the offensive Wednesday, demanding state and federal investigations into the dissemination of material from his laptop, and threatening a defamation lawsuit against Fox News' Tucker Carlson for allegedly failing to correct false statements.
Black Americans are up to five times more likely to have their federal tax returns audited than taxpayers of other races, according to a new study released this week.
The man accused of torturing a woman he held captive in southern Oregon last week died from a self-inflicted gunshot wound after an hourslong standoff, police confirmed Wednesday. Benjamin Foster was also suspected of killing two people in the days before his death, police revealed.
The Federal Reserve is raising its benchmark interest rate a quarter of a percentage point, officials with the central bank said on Wednesday, its eighth consecutive hike as policy makers try to subdue inflation.