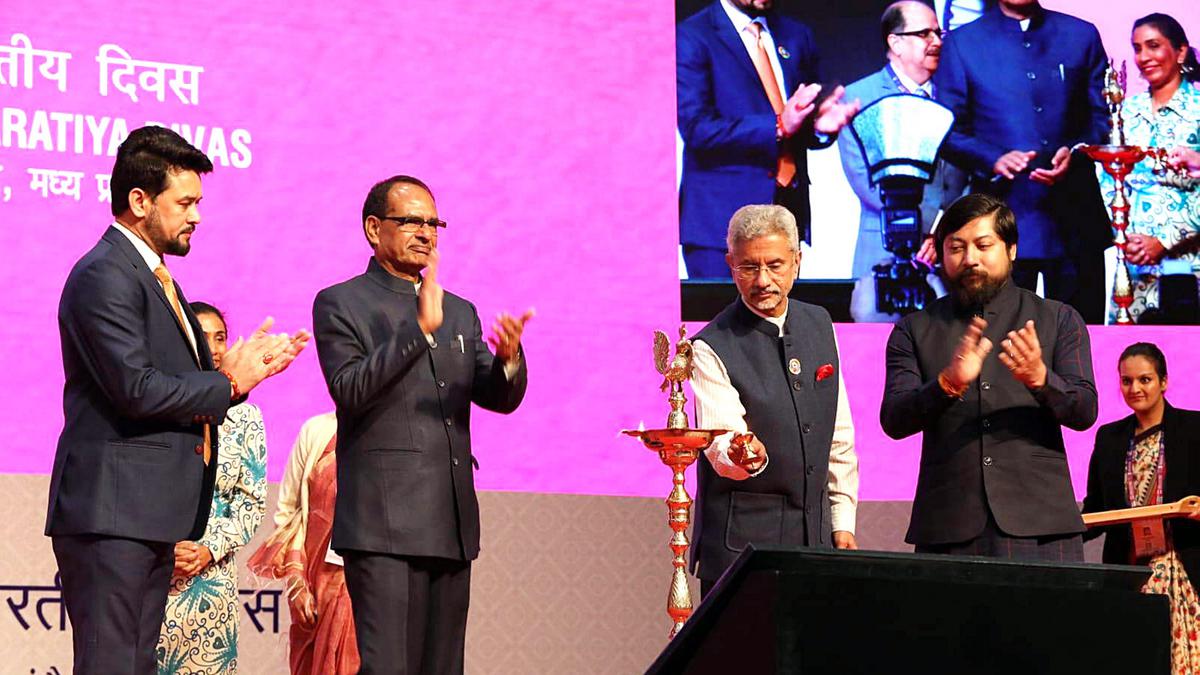 "Centers of faith" abroad are a "matter of pride", says External Affairs Minister Jaishankar
The Hindu
The 17th Pravasi Bharatiya Divas Convention is a three-day event that is taking place between January 8 to 10.
Increasing number of "centers of faith" abroad are a "matter of pride," said External Affairs Minister Dr S Jaishankar on January 8, 2023. Addressing the Youth Pravasi Bharatiya Divas 2023 which is the first event of the 17th Pravasi Bharatiya Divas Convention in Indore, Mr Jaishankar said the young members of the Indian diaspora can learn values and traditions from such institutions to stay connected to their Indian roots.
"Many of our Embassies, in fact I think most of them today now offer yoga, dance and music classes. We ask them also to support and facilitate community functions and collective activities. It is a matter of pride for us that centers of faith are growing abroad," said Mr Jaishankar making a special mention of "the one in Abu Dhabi" in the United Arab Emirates.
Prime Minister Narendra Modi had launched the construction of the Hindu temple project in Abu Dhabi on February 11, 2018 and the construction of the structure is expected to be completed soon. Unveiling a replica of the temple, Mr Modi had said, "The first traditional temple in Abu Dhabi will act as a catalyst for the flourishment of humanitarian values and harmony between the two countries. The temple will become a medium for India's identity."
Reflecting that sentiment, Mr Jaishankar connected the Indian identity with faith, and added, "The centers of faith are growing abroad because they also serve to inculcate values, promote culture and nurture traditions. The youth living abroad today, therefore has many more opportunities than before to stay connected." He also mentioned the New Education Policy will "create more pathways for deeper involvement of the diaspora".
Mr Jaishankar conveyed the government's commitment to ensure "more secure travelling experience abroad" and "non-discriminatory treatment" for Indians in foreign countries. In this regard he mentioned the recent agreements on "migration and mobility" that India has concluded with multiple countries like Austria.
"Younger generations are also very much in the forefront of connecting India to the world. They do so not only through their activities at home but by studying, working and traveling abroad," said Mr Jaishankar. The 17th Pravasi Bharatiya Divas Convention is a three-day event that is taking place between January 8 to 10. Zaneta Mascarenhas, Member of Parliament of Australia was the Guest of Honour at the Youth Pravasi Bharatiya Divas held on Sunday.
More Related News
Born in 1928 in Khadaklat in present-day Karnataka, she was known by her mononym 'Sulochana' and acted in more than 300 Marathi and Hindi films.
The Aam Aadmi Party (AAP) on Sunday attacked the Bharatiya Janata Party (BJP) over the Balasore train accident, and said that before the accident, there were complaints of problems with the signalling system and a shortage in manpower, but the Central government had not done anything about these issues.
The silver jubilee celebrations of Amrita Hospital, Ernakulam, were inaugurated on Sunday. Inaugurating the celebrations, Union Home Minister Amit Shah said the hospital had set an example by providing free medical support to needy sections of the society.
Dakshina Kannada Member of Parliament Nalin Kumar Kateel has said that 22 km of the 45 km- long Bikarnakatte-Sanur National Highway widening project has been completed.
A month after Manipur was engulfed in ethnic violence, only 18% of over 4,000 weapons, looted or taken away from police armouries have been surrendered with the authorities.
The Congress had earlier demanded the resignation of Railway Minister Ashwini Vaishnaw and criticised Prime Minister Narendra Modi
Mamata Banerjee announced ₹5 lakh compensation to the kin of the deceased, ₹50,000 to the injured
Members of HB Colony Residents Welfare Association and Visakhapatnam Apartment Resident Welfare Association staged a protest demanding that the APSRTC officials resume city bus 20A service immediately
As many as 32 people from Karnataka, part of volleyball teams, who were stranded after the train accident in Balasore, managed to return on Sunday
The power sector in Tamil Nadu may see a maximum coal demand of 65.7 million tonnes by the financial year 2030 from actual consumption of 27.95 million tonnes in financial year 2022, as per government's report on Integrated Coal Logistics Plan for efficient coal evacuation.
Heavy rain accompanied by strong winds brought down the mercury level in Sivaganga town and its peripheries on Sunday evening..